You've likely heard of bone broth in recent years. It may sound like a new trend in the healthy food realm, but it's one of the most ancient foods around.
What is Bone Broth?
Bone broth, just like it sounds, is broth that is made from animal bones. Our ancestors have likely been making broth from bones as long as the practice of boiling water has been around! And, while it may seem like a novel practice today, many people can recall their grandparent making soup from the leftover bones from chicken, beef or pork.
Why is it Suddenly Popular?
Bone broth has emerged in the nutritional world as a "new trend," because of its high nutritional value. When bones are lightly simmered in water for a long period of time, with a little help from some vinegar, the vast array of nutrients and minerals, gelatin and collagen inside the bones and any tendons or other parts are absorbed by the water. The result is a flavorful, nutrient-dense liquid.
Bone broth is a healing, nourishing food. Why do you think chicken noodle soup became a staple for dealing with illness? It was because of the broth! Bone broth has proven beneficial for people dealing with joint pain and arthritis. The amino acids also benefit your gut health – helping reduce inflammation and boost immunity.
It's a fantastic food for people to eat everyday, but especially when recovering from illness, injury, surgery or postpartum healing after giving birth. If you know someone in one of these situations, one of the nicest gifts you could deliver to them is a batch of soup made with healing bone broth.
Is Bone Broth Difficult to Make?
No! The most challenging part is sourcing the bones, which we'll talk about in a little bit. We've been making bone broth for years, typically using the slow cooker. Beef bones need to be simmered for at least 48 hours to achieve the greatest nutritional profile. This is easy to do when you've planned ahead and are home for most of those two days. It's a lot harder when you want it sooner.
When the Instant Pot came out, we started making broth in it instead. Cooking the bones with low pressure for two hours (plus the time for the pressure release) produces the same great results that normally take much longer in the slow cooker or stovetop. This makes it more practical to prepare a batch of broth on a weekend or after work one evening.
Now, let's talk about the bones. It's preferable to purchase bones from pasture-raised, grass-fed or free-range animals. Your local grocery store or health food store may have them (ask the butcher). You can also check with animal products vendors at your local farmers market. Another option is ordering them online.
I Don't Have an Instant Pot!
An Instant Pot speeds up the cooking process, but you can easily make bone broth the "old fashioned" way using a slow cooker. You'll follow the same steps for roasting the bones and use the same ingredients listed below. When you start cooking the broth, you want to get the liquid to a very slight simmer (where you see just a couple bubbles at the top of the surface every so often) and keep it there. We achieve this state using the low setting, but your appliance might require a different setting. The biggest thing is to make sure it doesn't vigorously simmer, as this destroys some of the beneficial compounds that we're aiming for.
When using the slow cooker, you'll need to lightly simmer your broth for the following time periods:
Chicken: at least 12 hours
Beef: at least 24 hours
How Should I Use Bone Broth?
You can use bone broth in the same way that you use any other kind of broth or stock you purchase in a carton from the store. We use bone broth as a base for soups, stews and chilis, like our Super Simple Thai Green Curry. Just be careful not to let your soup vigorously boil, as that can start to break down some of the nutritional compounds in the broth. A light simmer is best.
We also drink bone broth! A cup of broth mixed with a little of your preferred seasoning is akin to enjoying a nice cup of tea or coffee. It also helps some people sleep better when enjoyed in the evening.
We've shared our go-to recipe below. You'll notice that we don't season our broth or add any sort of vegetables. This is because we like to control the seasoning depending on our intended use.
We hope you'll try it and let us know how you like it! If you want to watch a video of Brianna making bone broth, visit our Instagram profile and check out the "Bone Broth" story.
And, if you have any questions, you can always reach out to us by email and we'll be happy to help.
Bon appetit!
Irene & Brianna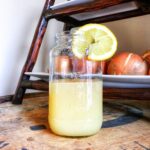 Print Recipe
Nutrient-Dense Instant Pot Bone Broth
Homemade bone broth is incredibly nutritious and delicious, and can be sipped on alone, or used in your favorite recipes calling for broth. Note – the serving amount may vary depending on how many bones you use and how much water is needed accordingly.
Equipment
Instant Pot or pressure cooker
Ingredients
2-3

lbs

Pasture-raised chicken or beef bones

(see note)

2

tbsp

Apple cider vinegar

Filtered water
Optional (see note)
Onion

Celery

Carrots

Peppercorns

Vegetable scraps

Parmesan rinds
Instructions
Place the bones in an oven-safe pot and roast in a 450 degree oven until they begin to brown (about 45 minutes if uncovered, about 60-90 minutes if covered).

Add the bones to the pressure cooker pot (carefully, as the bones will be very hot). Scrape any remaining liquefied fat and brown bits into the pot as well.

Pour the apple cider vinegar into the pot. Add enough filtered water to cover the bones.

Set the Instant Pot for 2.5 hours on low pressure (or coordinating settings on your pressure cooker), and press start. Once finished, allow to natural release (can take 30-40 minutes).

Set a stainless steel bowl in your sink (glass also works if the broth has cooled enough – do not use plastic). Ensure it's large enough to hold the amount of broth you made. Place a large colander on top. Carefully remove the pot from the machine using hot pads or oven mitts and pour the contents over the colander, into the bowl. Discard the bones once they've finished dripping.

Place the bowl, uncovered, in your fridge to cool. Once cooled, cover and use as intended within one week, or freeze if needed.
Notes
Bones: For beef, look for marrow bones or a mix of knuckle and other soup bones. The goal is to have more bone than meat. For chicken, you can use the leftover carcass of a whole chicken.

Pasture-raised / grass-fed: this is important because the environment and practices in which the animal was raised directly impact the quality and nutrition of its bones and meat. Purchasing pasture raised, and ideally organic, provides you with better nutrition than conventionally raised animals.
If you can find chicken feet, keep them in the freezer and add 2-3 in when you add your roasted bones to the Instant Pot. Chicken feet increase the gelatin in your broth, which is highly desirable!

Optional add-ins: Your broth will be delicious and versatile with just the three ingredients outlined in this recipe. I often freeze vegetable scraps like mushroom stems, celery ends and carrot tops and peels, adding them into my Instant Pot before turning it on. You can also chop and add fresh onions, carrots, celery, mushrooms or whole cloves of garlic to add flavor to your broth.

We don't recommend salting your broth as it may lend to your final recipe being too salty.