Brianna here, and I'm so excited to share this green curry recipe with you! It's incredibly delicious and nutritious. Plus, you can make a huge batch and have ready-made lunches or weeknight dinners for you and your family.
Before we get to the recipe, I'll share my journey to the land of Thai Curry. Back in July 2018, I was in the midst of a 3-week dietary cleanse guided by the functional medicine practitioner I was seeing for my hypothyroidism issue. During this 3-week cleanse, I was to avoid the following:
Grains (wheat, corn, rice, oats, quinoa, etc.)
Dairy (including butter – yeah, I don't know how I did it either)
Caffeine
Alcohol
Soy
Sugar (specified amounts of natural sugar from fruit, maple syrup and honey were allowed)
White potatoes
Tomatoes
Any oils other than coconut, olive and avocado oil
Beef
Pork
Shellfish
Eggs
Any foods that were flagged from my food sensitivity test (for me that meant almonds, mango, cucumbers and some others that I can't remember)
In other words, I was on the "hate your life" diet. Looking at the above list, you might be wondering what exactly I DID eat during those three weeks. Truthfully, it was fine as long as I was cooking my own meals. I ate lots of wild salmon and TONS of vegetables and I felt great.
The real challenges arose when I was unable to eat at home. Coincidentally, that three week cleanse overlapped with several work trips. This meant I would be eating many meals from catering companies and restaurants.
I remember walking through the Buffalo airport trying to find SOMETHING that would fall within my parameters. I ended up with a pack of pistachios. I'm sure I could have eaten outside the guidelines for the sake of nourishment and sanity. But, I'm competitive and doggonit – if I was going to cheat the challenge, it'd be for a glass of wine and not the sub-par food at the Buffalo airport!
One of my work trips was to Savannah, GA. I questioned why fate would overlap this food cleanse with a trip to a city known for its food, drink and overall hospitality. So, I succumbed to the idea that I would enjoy absolutely none of the culinary wonderment that special little city had to offer. I remember arriving to my swanky boutique hotel. Upon check-in, I was offered a complimentary glass of wine or champagne, to which I had to forcefully squeak out the reply "no, thank you," figurative tear in my eye.
But, this story has a happy ending! I knew I wouldn't be able to eat much of the catered food that would be at the networking event that night, so I started scrolling through Google results of Savannah's top restaurants. I came across a highly-rated Asian restaurant and started scrolling the menu. It looked promising! I decided I'd try it out after my event was over.
Fast forward to later that night and I headed to the restaurant. I grabbed a seat at the bar and told the bartender I'd be placing a to-go order. After having shook hands and talked with lots of people, the introvert in me was looking forward to changing into PJs and eating my takeout food in the serenity of my hotel room. I started scanning the menu for what options I had. The bartender asked if I had questions and I felt bad for what he was unknowingly stepping into.
Me: "What kind of oil are the Malaysian Chili Wings fried in?"
Bartender: "Uhh, I believe canola."
Me: "Do you know if the dressing on the Vietnamese Chicken Salad has gluten?"
Bartender: "Yes it does. Are you avoiding gluten?"
Me: "Yes, among other things."
Bartender: "What else are you avoiding?"
Me: "Soy sauce and soy products, all oils other than olive, coconut and avocado oil, gluten and all grains, dairy…I'll spare you the rest."
Bartender: *surprised look on his face – probably wondering how I chose an Asian restaurant if I couldn't have soy sauce* "Ok well you could do the salad with the dressing on the side, but you'd also have to remove the prawn krupuk and the crispy onions because they have gluten and soy sauce."
Props to the most patient and courteous bartender ever! After a lengthy discussion about a number of dishes on the menu, I ended up with the Vietnamese chicken salad, sans dressing, crispy onions and prawn krupuk (in other words, all the good things), and the Thai green curry with chicken, no soy sauce.
I returned to my hotel room, opened up the takeout containers and dug into the salad first. It was delicious, even without the dressing. The mixture of vegetables and seasoned meat and juices worked and kept it from being dry like I feared.
Then, I tried the green curry, and oh my, it was amazing. I felt like crying tears of joy! After a string of incredibly plain, dry and boring restaurant meals that met my dietary restrictions, I finally had a complex combination of flavors and textures. It was silky from the broth and the coconut milk. It had a slight tartness from the fresh lime juice squeezed on top. And it had tons of flavor from the various vegetables and spices. It came with rice on the side, but it didn't need it.
I just knew I HAD to recreate the dish when I returned home. I looked up the restaurant menu and wrote down the ingredients listed for the green curry. When I returned home, I read through countless online recipes for Thai Green Curry. I made notes about common ingredients and steps I was seeing, attempted my first batch, and it rocked. It quickly became a staple because I continued to avoid grains and dairy after my 3-week cleanse. This recipe is void of both.
The recipe below provides measured ingredients, but honestly, I'm very free-flowing when I make it myself. I add or remove things based on what's in my fridge. This likely turns it into an inauthentic Thai curry recipe. Perhaps it wasn't authentic in the original form either, but it tastes delicious and that's my goal. In the recipe notes, I've shared some examples of variations you can make, if interested.
Also, you can make your own curry paste and I am guessing this recipe is even better when you do! Each time I plan to make this, I seem to somehow never have time to stop at our local Asian market to buy the special ingredients needed to make your own curry paste. One day I will try it. For now, I buy Thai Kitchen Green Curry Paste from Amazon, Whole Foods or another local grocery store and it works wonderfully.
This may seem like a long list of ingredients, but it's very quick and easy to whip together. Several of the ingredients will sit in your fridge, available for the next batch of soup you make.
This recipe is dairy-free. It becomes gluten-free if you use coconut aminos or gluten-free soy sauce (ensure your fish sauce is gluten-free, too). It becomes Whole30 if you use ghee, coconut oil or avocado oil and coconut aminos.
Lastly, I'm tagging this recipe with the pregnancy and postpartum categories. The nutritious and cell-boosting ingredients are great for you, mamas! I found this meal incredibly nourishing when I was postpartum. I also appreciated knowing that the collagen and gelatin from the bone broth were helping repair my body. Even if you don't use bone broth, it still has tons of nutrition and is a great freezer meal.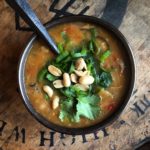 Print Recipe
Super Simple Thai Green Curry
An easy and delicious Thai soup that is packed with nutrition!
Ingredients
1

can

Full-fat coconut milk

4

c

Chicken bone broth

(See note)

2

tbsp

Butter, ghee, olive oil, coconut oil or avocado oil

1

tbsp

Thai Kitchen Green Curry Paste

2

tsp

Coconut aminos

(or soy sauce)

1

tbsp

Fish sauce

1

tsp

Salt

1/3

can

Canned bamboo shoots, drained

(you can use the whole can if you're okay with more bamboo shoots)

1

Zucchini, sliced and quartered

(I leave the skin on)

1/3

lb

Mushrooms, sliced

(I usually buy Shitaake, but you can use cremini, white button or a combination of your favorites)

1

Green bell pepper, sliced or chopped

1

tsp

Grated ginger root

(omit if needed)

2

Jalapeno peppers, sliced or chopped

(seed them if you don't like a lot of heat, if you like heat, you might use more peppers or use a hotter pepper like serranos)

1

lb

Boneless, skinless chicken thighs

(you can use chicken breasts if you prefer, but thighs have more flavor, are more tender and have a better nutritional profile!)

A handful of Thai basil (optional)

(regular basil can be substituted, or leave out if desired)*
Optional Toppings
Fresh lime juice

Cilantro

Green onion / Scallion

Crushed peanuts

Fresh jalapeno slices
Instructions
Preparing the Chicken (choose the option that best fits your needs)
Stovetop: Dice the thighs into chunks and saute in a little oil or butter until nicely seared on all sides, then continue with step 2, leaving the chicken in the same pan while you add more oil if needed, followed by the curry paste and other ingredients.

Instant Pot: high pressure for 8 minutes, natural release for 20 minutes, then shred with forks, with your stand mixer (paddle attachment), or with a hand mixer.

Boiled: bring water to a boil, place thighs in water and boil for 10 minutes. Remove from water and let cool for a few minutes, then shred with forks, with your stand mixer (paddle attachment) or with a hand mixer.
Making the Curry
Pour a little oil or butter into a stockpot or large Dutch oven. Heat over medium to medium high heat. Once hot, add the curry paste, ginger and jalapeno slices. Use a spatula to help it disperse in the oil until fragrant.

Add the sliced mushrooms, bell peppers and zucchini. Mix to allow the oil and curry mixtures to coat as best as possible. If the pan seems too hot like it will burn the mushrooms, turn the heat down slightly. Cover your pot and allow to cook for a few minutes before stirring the mixture. Repeat until the vegetables begin to soften. If the mushrooms or zucchini are sticking to the bottom, scrape them with your spatula and turn your heat down slightly. The zucchini will release water and your mixture will become more "liquidy."

Once the veggies have softened, add the coconut milk. Bring the mixture to a simmer.

Add the coconut aminos (or soy sauce), fish sauce and salt.

Pour in the chicken broth and add the bamboo shoots. Bring to a simmer again.

Taste and adjust things as needed – more salt if desired, curry paste, etc.

Stir in the Thai basil.

At this point, your soup is ready to enjoy or allow to cool if prepping for future meals. Enjoy – let me know if you try it!
Notes
*Chicken broth – to add nutritional value, I make my own bone broth. I've used both chicken and beef broth, depending on what bones I have on hand. I make a full Instant Pot of bone broth and triple the other ingredients in the list to make a huge batch at once. If you want to make your own broth, there are plenty of recipes online, but we'll also share our recipe soon. The difference in taste and mouthfeel between store-bought and homemade bone broth is noticeable – homemade is so much better! If you want to try making your own, check out our super easy recipe here.
*Basil – Thai basil is traditionally used in green curry, but I am rarely able to get Thai basil or even regular basil at the time I'm making this soup so I just omit it. Last summer, I grew a pot of Thai basil just so I could regularly have it on hand for my curry!
*Variations – as I said above, I am very free-flowing with this recipe. I use up what I have in the fridge and I also add lots more veggies to up the nutrient factor. Here is a list of changes I sometimes make:
Using a combination of bell peppers (green, red, yellow, orange)

Using more zucchini

Using more mushrooms

Adding in cauliflower rice

Adding in sweet potato

Adding in Vermicelli rice noodles

Omitting the basil

Using more curry for more spice

Using a combo of spicy peppers

Mixing in spinach or kale to wilt at the end