I'm excited to share this recipe with you! It's a super tasty version of Indian butter chicken. As written, it's gluten-free / grain-free and dairy-free, but can be changed to include both if desired.
I've talked about my thyroid journey and how I embarked on a 6-month journey to correct hypothyroidism. This recipe was one happy finding out of that journey. During my dietary changes, I avoided dairy and grains, which obviously limited some aspects of dining at restaurants. Oh how I missed our Indian food outings and the simple joy of tearing off a piece of garlic naan, dipping it in my carefully concocted mixture of curry, rice and mint chutney and rejoicing in its deliciousness!
About 6 weeks into my new diet, I randomly remembered that my favorite dish at a local Indian restaurant used coconut milk as a base. By this point, I had already fallen in love with coconut milk and cauliflower rice for their substitution capabilities in many traditional recipes. So this was an "aha" moment for me! Why had I not thought of attempting Indian food in my own kitchen that met my dietary restrictions? What did I have to lose, other than some potentially bad meals?
So, I embarked on the path of creating a recipe that used coconut milk and cauliflower rice. These would eliminate any need for heavy cream and traditional rice.
That being said, you are more than welcome to sub in heavy cream for the coconut milk and to make traditional rice in place of the cauliflower rice, and/or serve naan as well! Using heavy cream provides a wonderful richness to the dish.
Two last notes: if you are avoiding butter, you can use ghee or a cooking oil instead. Second, many Indian recipes have sugar in them to add a touch of sweetness. We did not include sugar in this recipe, because we really don't think it's needed! If you want, you can stir in two teaspoons of sugar (or coconut sugar for less of a glycemic impact) once the dish has simmered a bit.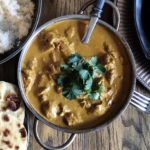 Print Recipe
Butter Chicken with Cauliflower Rice
A delicious and easy curry that can also be customized to your heat preference. A fantastic option for those on dairy-free and/or grain-free or gluten-free diets.
Ingredients
Butter Chicken
2

tsp

Garam masala

1

tsp

Coriander

1/2

tsp

Cumin

Pinch

Cayenne pepper

More to taste

1

tsp

Salt

More to taste

1/2

tsp

Turmeric

1/2

Onion, diced

2

tbsp

Butter, ghee or oil

1

small clove

Garlic

(or a pinch of garlic powder)

1

2" knob

Ginger root

(can substitute 1 teaspoon ginger powder)

1

lb

Boneless, skinless chicken thighs

(See notes)

1/2

c

Tomato passata (tomato puree)

(See notes)

1/2

15-oz can

Coconut milk (full fat)

Cilantro, chopped (optional)
Cauliflower Rice (Instructions provided for "Simple" and "Simmered" methods – choose the one that fits best with how much time you have)
2

lb

Riced cauliflower / cauliflower rice

, See note

1/4

tsp

Black pepper

1/2

tsp

Salt

3

tbsp

Butter or oil

(needed only for Simple method below)

1

15-oz can

Coconut milk, full fat

(needed only for Simmered method below)

1/2

tsp

Onion powder

(needed only for Simmered method below)

1/4

tsp

Garlic powder

(needed only for Simmered method below)

1/4

c

Cilantro, chopped (optional)

(needed only for Simmered method below)
Instructions
Cut the chicken into small chunks, set aside.

Grate the ginger (I often use a food processor for this, once I've peeled it).

Combine all the spices and place in a dry pan on the stove top. Turn the heat on to medium and allow the spices to toast. Stir occasionally and watch the mixture carefully as they can quickly burn. Once they become fragrant, remove the pan from the heat and set aside.

Place a dutch oven on the stovetop over medium heat. Add the butter, ghee or oil.

Add the onions and garlic and stir to coat. Cook the onions for about 10 minutes, stirring occasionally, or until they become translucent.

Add the ginger and stir to incorporate. Add the toasted spices.

Add the chicken pieces and turn the heat up to medium high. Cook the chicken, stirring occasionally until mostly cooked through.

Add the tomato passata, stirring to incorporate. Add the coconut milk and bring to a simmer. Continue simmering for 15 minutes to ensure the chicken is cooked through. Meanwhile, make the cauliflower rice following your preferred approach below.
Cauliflower Rice
Quick method – heat the butter in a skillet over medium heat. Add the cauliflower rice, salt and pepper and cook for about 10 minutes or until your desired texture. We like it with a little crunch, but you can cook it until soft. If it seems like the rice is browning too quickly, turn down the heat.

Coconut milk method – pour the cauliflower rice into a skillet, followed by the coconut milk. Add the spices and simmer for 10-15 minutes, or until the coconut milk has mostly reduced and the mixture is thick. Stir in the cilantro, if using.
Serving
Serve the butter chicken over a bed of cauliflower rice. Top with cilantro, if desired.
Notes
Chicken – you can substitute boneless, skinless chicken breasts for the thighs if preferred. Thighs stay more tender, have better flavor and better nutrition, so I recommend using thighs if you can't decide.
Cauliflower rice – you can purchase a head of cauliflower and rice it at home using a vegetable shredding appliance or food processor. I often buy frozen cauliflower rice in bulk at Costco or in single packs at Whole Foods. I rarely remember to take my cauliflower rice out of the freezer to thaw so I often cook it starting from frozen. You can do the same, it will just add to the total cooking time. 
Tomato Passata – there have been plenty of times where I didn't have passata on hand, but did have crushed tomatoes and they can be substituted instead. I've also used tomato paste when I had absolutely no other options. I unfortunately can't give you a measurement (maybe a tablespoon?), but I added it in after the ginger and continued the recipe from there.