As we head towards cooler days and crisp nights, we start dreaming of cozy, soul-satisfying meals. One of those meals is meatloaf!
We love meatloaf because it's a fantastic source of quality protein and fat.
Beef contains a wide range of nutrients and compounds critical to optimal health for people of all ages. Beef is a complete protein, meaning it contains all nine essential amino acids that our bodies require for growth and repair functions. It's also a fantastic source of iron, zinc, conjugated linoleic acid (CLA), Vitamins B3, B6 and B12, selenium, phosphorus, creatine, taurine, glutathione and dietary cholesterol.
If you can, opt for grass-fed beef, which contains higher amounts of Omega-3 fatty acids and glutathione, in addition to other trace minerals and nutrients. Otherwise, conventional beef provides great nutrition as well.
We also recommend using beef with an 80/20 or 85/15 fat ratio. Not only does beef tallow (fat) make the meatloaf more flavorful and juicy, it actually plays a beneficial role in your health. It promotes proper absorption of the fat-soluble vitamins in your meal. It also encourages satiety, helping you feel fuller for longer and reducing cravings for empty carbs and junk food later.
The other nice aspect of meatloaf is that, unlike many recipes using ground beef, you don't need a bun or tortilla to eat it.
Our low-carb recipe contains about 8.5g of carbohydrates and has less breadcrumbs and no added sugar, compared to most other recipes you'll find online. The only sugar comes from the ketchup you are using. If you opt for a ketchup that doesn't contain sugar, then the carbs will be reduced even more. The caramelized onions add a delicious touch of natural sweetness! 
Our recipe is juicy and packed with flavor.
It also allows you to roast flavorful veggies in the same pans that soak up the juices from the baking meat loaves. I often buy the big bags of organic broccoli florets from Costco, trim the edges of a few handfuls of florets and roast those in the same pan along with sliced onion. Sweet potatoes are also wonderful with this recipe! As noted below, you'll want to par-boil potatoes before roasting with the meat loaves, as raw potatoes won't cook in time. Whatever vegetables or starches you use, do make sure to toss them in a little melted butter and/or extra virgin olive oil, salt and desired seasonings before adding to the pan.
Tweaks and Substitutions
You can skip the bacon without any harm to the recipe
You can use raw onion instead of caramelizing the onions if you're short on time or energy (you won't have the added sweetness, but we can vouch that it still tastes great!)
You can also skip the tomato paste and/or mustard if you don't have them on hand (did this by accident one time and it was still delicious!)
You can leave the pickled jalapeños out if you don't want the added kick
You can use fresh, seeded jalapeño instead of pickled jalapeños 
Give this recipe a try and let us know if you do! We think you'll love it!
Active-ists for your health,
Brianna & Irene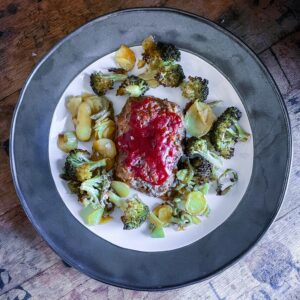 Print Recipe
Bacon Jalapeño Meatloaf
This is a lower-carb meatloaf than many you'll find online. The addition of bacon and jalapeños adds wonderful flavor! This is a great meal prep recipe that reheats well for future lunches or dinners.
Equipment
Two cookie sheets (be sure they have edges) or two 13 x 9 (or similar size) baking dishes
Ingredients
1

Package of uncured bacon

(8oz or 12oz is fine – you will just have slightly less bacon to crumble on top of your meatloaves if you use the smaller package size)

1

tbsp

Butter

1

Onion, chopped (equals about 1 cup)

2

tsp

Salt

1

tbsp

Tomato paste

2

Large eggs, slightly beaten

1/2

c

Panko bread crumbs

1/2

c

Ketchup

3

tbsp

Worcestershire sauce

1

tsp

Black pepper

2

Garlic cloves, minced

2

tsp

Dijon or yellow mustard

1/2

c

Pickled jalapeños, chopped

(leave them out if you prefer not spicy)

2

lbs

Ground beef

(80/20 is ideal)
Optional Veggies for Roasting Alongside Meatloaves
Boiled potatoes or sweet potatoes, cubed

Broccoli florets

Chopped cabbage

Brussels sprouts, halved

Sliced onion
Instructions
Cook Bacon
Preheat your oven to 400 degrees. Lay each strip of bacon out on a large sheet pan. It's okay if they touch or slightly overlap – they will shrink and space out as they cook.

Bake for about 20 minutes, or until the bacon is uniformly crispy, but not burnt.

Set aside to cool, then chop into small pieces. If using the same sheet pan for baking the meatloaves, allow the bacon grease to cool slightly and then discard. There's no need to wipe down the pan, just remove the excess grease.
Prepare Meatloaves
Heat the butter in a pan on the stovetop over medium-low heat. Add the onions and cook, stirring occasionally, until they begin to caramelize. This takes about 20 minutes. (I will admit that I have skipped this step and just used raw onions when I didn't have time – it still turned out delicious!)

Take the onions off the heat and add the tomato paste, Worcestershire sauce, salt, mustard, pepper and garlic. Allow to cool slightly.

In a large bowl, lightly mix the beef, eggs, bread crumbs, pickled jalapenos, chopped bacon, and onion mixture. Mix just until incorporated.

If you're including veggies, toss them in a little melted butter and/or olive oil, plus salt, pepper and any other desired seasoning.

Form into eight individual loaves on your sheet pans or baking dishes, four loaves on each, equally spaced apart. Add your veggies in between the loaves on each pan so that they soak up the delicious juices from the meat.

Top each meatloaf with one tablespoon of ketchup. I don't usually measure the actual amount – I just eyeball it straight from the bottle, smoothing it with a spoon until the top is coated.

Bake for 40-45 minutes, or until the center reaches 165 degrees Fahrenheit.

Allow to cool for 5-10 minutes before serving.