When I think of comfort food, my mind drifts to Swedish meatballs. Little, tender, warmly spiced meatballs in a creamy, rich gravy sauce. My mom used to make this meal for my brother and me often. Just the smell of it cooking invokes warm, fuzzy feelings of childhood. In fact, while I was studying abroad in Lithuania, I'd order this exact meal from a nearby restaurant anytime I was feeling a little homesick.
Although this dish is widely known as Swedish meatballs, my mom grew up eating a similar Lithuanian version called "kukleitu." Making the common version of Swedish meatballs for my brother and me channeled her own childhood memories.
Over the years, my mom and I have come across numerous recipes for Swedish meatballs and have combined our favorite parts of all of them. This recipe we're sharing with you is the result of all that experimenting.
We always ate this meal with egg noodles and still love it that way. Others love it with mashed potatoes. For a low-carb version, you could serve it with riced cauliflower, or mashed cauliflower. You could also eat the meatballs all by themselves! They're that good. The traditional meal would also include a dollop of lingonberry jam as well.
I hope you enjoy it! We'd love you to leave a rating of your feedback after you try it!
Brianna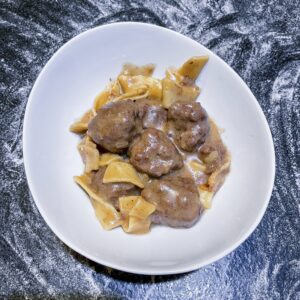 Print Recipe
Swedish Meatballs
Comfort food at its finest – delicious, savory little meatballs in a gravy cream sauce. Serve with mashed potatoes, egg noodles, riced or mashed caulfilower, or just eat them on their own!
Ingredients
Meatballs
1/2

Medium onion, diced

2 tbsp

Butter

1/2

c

Panko bread crumbs

2/3

c

Heavy cream

(half and half or milk will also work)

2

tsp

Salt

1/2

tsp

Ground allspice

1/4

tsp

Black pepper

1/4

tsp

White pepper

(can substitute another 1/4 tsp black pepper instead)

1/4

tsp

Nutmeg

1

large egg

2

lbs

Ground beef

80/20 is ideal
Sauce
4

tbsp

Butter

1/4

c

Flour

1

tsp

Salt

(plus more to taste)

1/4

tsp

Allspice

1/4

tsp

Black pepper

2

tbsp

Worcestershire sauce

4

c

Beef broth

(32 oz)

1/4

c

Heavy cream

(half and half works, too!)
Instructions
Melt the butter in a sauce pan over medium heat. Add the onions and cook until softened and translucent, stirring occasionally (about 10 minutes). Set aside to cool.

In a large bowl, mix together the bread crumbs and the heavy cream. Add the salt, allspice, black pepper, white pepper, nutmeg and egg. Stir to combine (this is called a slurry). If you will be doing the oven bake method, preheat the oven to 475 degrees Fahrenheit.

Add the cooled onions and the beef. Gently mix with your hands until the slurry and onions have been incorporated with the meat. You can also mix it in a stand mixer for one minute on low speed.

Shape into balls about 1" to 1 1/2" in diameter. Cook them using either the stovetop or oven method, depending on your preference.

Stovetop cooking: Heat the same pan you cooked the onions in on medium heat. Add enough meatballs to fill, but not crowd the pan. Allow to cook until the bottoms have browned (about 4 minutes) and then turn each meatball to the other side to brown for another 4 minutes. Repeat until all meatballs have been browned. Don't worry about them being fully cooked, as they will finish cooking in the gravy.

Oven cooking: Line a baking sheet with parchment paper or grease with a light coating of butter or olive oil. Place the meatballs 1/2" apart and cook for 5 minutes. Switch the oven to broil and broil for 5 minutes, being careful not to burn the parchment paper. The meatballs will not be fully cooked, but will continue cooking in the gravy.

While the meatballs are cooking, start the gravy. Melt the butter in a pot large enough to fit the meatballs. Sprinkle the flour and mix to combine. Cook on medium heat for two minutes (the mixture will be very thick).

Add the salt, allspice, black pepper and Worcestershire sauce. Stir to combine.

Add the broth and bring to a simmer. When the meatballs are done cooking, carefully add them to the gravy. Return to a simmer and cook for 15 minutes.

Add the cream and serve with your desired sides.