I have a major sweet tooth. I love to bake and the only way I can stop myself from making a dent in a batch of freshly-baked cookies, brownies or other goodies, is if I immediately send them away to be shared with others. Please don't tell me I'm alone in my sweet tooth sorrow!
As a result, I try to avoid sweets outside of special occasions (let's be real – sometimes Tuesday night is a special occasion). Eating sweets typically causes me to crave them more (plus other simple carbs), so it's easier just to stay away.
But, sometimes you just want some dang chocolate! Enter, Chocolate Chia Avocado Pudding. I'm pretty sure Tom Brady popularized the idea of incorporating avocado into sweets when he shared with the world that he loved avocado ice cream, but who knows. Maybe our ancestors have been mixing avocado with cocoa powder and vanilla extract since the dawn of time and that's really what those hieroglyphics in the caves have been trying to tell us this whole time.
While I've yet to try avocado ice cream, I can tell you that avocado pudding is a definite yes! If your initial reaction to the name of this recipe is something like "Avocado in chocolate pudding? Eww gross!", then I beg you to keep reading. YOU CANNOT TASTE THE AVOCADO. I've had avocado lovers and haters try this pudding – both love it and agree you can't taste it. The avocado provides the most amazing creamy and rich texture that you would expect in a decadent chocolate pudding. And the taste? Well let me tell you – this tastes like brownie batter. So unless you dislike brownie batter (what kind of monster are you?), you'll love this recipe.
This recipe is the result of sifting through many different versions online and making tweaks based on my preferences. I wanted it to be simple, with only a handful of ingredients (ones that I almost always happen to have on hand). It also needed it to be quick and easy to make. Like "done in 10 minutes with little mess" easy.
This recipe hits those marks! The best part of all, besides the fact that it tastes amazing? It's also good for you! That's right – this dessert is guilt-free and packed with nutrients. Here's a breakdown of the ingredients:
Maple syrup – a natural sweetener that contains antioxidants and minerals.
Avocado – a powerhouse fruit containing healthy fat and fiber. This means it will slow your body's absorption of the sugars from the maple syrup and it will make your body work harder to process what you're eating, both of which help you feel fuller for longer.
Coconut milk – a healthy fat source that also has unique antimicrobial properties.
Chia seeds – a good source of a variety of nutrients, antioxidants, and brain-boosting Omega-3 fatty acids. Chia seeds absorb liquid and can become a form of structured water, which helps fluidity in your bloodstream. They also promote fullness.
The chia seeds provide a texture to the pudding similar to tapioca. If you would prefer a smooth, mousse-like texture to your pudding, you can omit the chia seeds, but you'll also want to reduce your coconut milk since chia seeds absorb liquid.
Cocoa powder / cacao powder – a great source of antioxidants, flavanols and polyphenols. These help reduce inflammation and raise levels of HDL cholesterol (the good kind).
Vanilla extract – you may not know that this common kitchen staple actually has some health benefits! High quality, pure vanilla extract contains trace minerals and antioxidants. As with other sweet recipes, we're using it for flavor, but it's nice to know it has it's own nutritional profile!
Salt – this recipe has just a pinch of salt to help bring out the sweetness, but you'll be happy to know that salt provides benefits as well. However, most table salts are highly refined and have been stripped of their natural minerals. Consider picking up a bag of Celtic Sea Salt (sold at Whole Foods and online) to take advantage of the high mineral content that unrefined salt provides.
This dessert would be a great option for kids. It's also a fantastic option for pregnant women, since many experience cravings for sweets. Heck, it's great for anyone wanting a little something sweet without negatively impacting their health goals!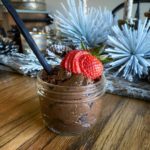 Print Recipe
Chocolate Chia Avocado Pudding
A delicious guilt-free, dessert that's both simple to make and fun to enjoy!
Equipment
Food processor or blender
Ingredients
1

Ripe avocado

2

tbsp

Chia seeds

(can be omitted if desired, see notes)

2

tbsp

Pure maple syrup

1/4

c

Unsweetened coconut milk (full fat)

(can also use heavy cream, half & half, or whole milk instead)

2

tbsp

Cacao powder

(can substitute cocoa powder)

1/2

tsp

Pure vanilla extract

Pinch

Salt

or more to taste
Optional Toppings
Nuts

(chopped walnuts, almonds, pistachios, etc.)

Unsweetened coconut flakes

Fresh berries
Instructions
Slice the avocado in half and discard the pits. Carefully, use your knife to draw slices through the flesh to create a grid of chunks (your knife should graze the avocado skin but not cut through it). Use a spoon to scoop out your avocado chunks into the bowl of a food processor or blender.

Add the remaining ingredients.

Blend your mixture until thick, fluffy and you can no longer see any green from the avocado.

Scoop the pudding into a container and eat immediately or store in the fridge. Optionally top with unsweetened coconut flakes, fresh berries or banana slices or chopped nuts.

Enjoy immediately or refrigerate for later. Pudding will thicken as it sits and the chia seeds absorb the liquid.
Notes
Choosing ripe avocados – you can tell an avocado is ripe when you gently squeeze it in the palm of your hand and it has some give. Don't apply too much pressure when checking for ripeness as you can inadvertently dent the fruit. An overripe avocado is typically very soft to the touch, has a dull sheen and may have large dimples in the skin.
Chia seeds – you do not need to includey the chia seeds if you don't have them on hand. If you make this recipe without the seeds, start with 2 tablespoons of the coconut milk and add more until you get your desired texture and consistency, as the pudding will not thicken as much as when you incorporate the seeds.