Are you looking for a savory, but light dish that makes you feel like you're vacationing in a charming Italian villa? If so, you'll love this recipe! Think pan-seared chicken, simmered in a flavorful, creamy sauce speckled with fresh basil, flavor-filled sun-dried tomatoes and onion. You can serve it with your favorite kind of pasta or crusty bread, or simply eat it on its own! At our last family dinner party, I served it with a light fresh salad – we'll share that recipe soon, too.
The journey to making this meal is just as important as the eating part. I highly recommend turning on some Italian dinner music and pouring yourself a glass of wine to sip on as you prep. The recipe already calls for a little white wine, so you'll have a bottle open. If you're like me and only drink red wine, rest assured you can freeze any leftover white wine you may have for use in future recipes – or just invite some friends over and save the white wine for them!
One of my secrets is that I prefer to make my own sun-dried tomatoes. They are even bigger flavor bombs than the store-bought kind and they are so simple to make! Just get some cherry tomatoes, slice them in half, toss with a little olive oil, salt, pepper and garlic powder and place them cut-side down on a sheet pan (line with parchment, if you like, but I don't). Bake in a 200 °F oven for about 2-3 hours, stirring them once or twice. When they're done, they will be completely shriveled and have lost all their moisture. Don't rush this process! Low and slow is how you bring out all their delicious flavor and sweetness. You can do this several days ahead if needed, just store them in the fridge until you're ready to use them for your recipe.
Bon appetit!
Irene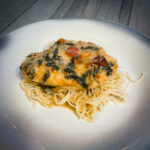 Print Recipe
Tuscan Chicken
Delicious pan-seared chicken simmered in a warming sauce.
Ingredients
1

lb

Boneless, skinless chicken breasts

, sliced in half so that you have two thinner pieces of chicken per breast

1

tsp

Salt

1

tbsp

Olive oil

1

tbsp

Butter

1

tbsp

Italian seasoning

1/4

tsp

Garlic powder

1/2

c

Onion

(about 1/2 a whole onion)

1/2

c

Sun-dried tomatoes, diced

(if from a pouch, rehydrate ahead of time by soaking in water)

1/2

c

Heavy cream

1/2

c

Chicken broth

1/2

c

Parmesan cheese

, freshly grated

Large handful of fresh basil

, chiffonade (feel free to use more – the package from the store that I found was 0.66 oz)

Flour for dredging

Pasta and/or garlic bread for serving

(see note)

1/4

c

White wine

(use dry or semi-sweet, like riesling)
Instructions
Preheat oven to 400 degrees Fahrenheit.

Melt 1 tbsp of olive oil and 1 tbsp of butter in a frying pan over medium-low heat. Sauté onions for 2-3 minutes.

Place a few tablespoons of flour in a shallow dish and dredge each chicken breast in the flour so that each side has a light coating. Add the chicken breasts to the pan and sprinkle the Italian seasoning, salt and garlic powder evenly across all sides of the chicken breasts. Let it brown with the onions for 3-4 minutes per side. You may need to brown the chicken in batches depending on the size of your pan. Remove the chicken pieces and place them in your baking dish.

Add 1 tsp of butter to the pan with the onions. Add the sun-dried tomatoes and sauté for 2 minutes.

Add the white wine and deglaze, scraping the brown bits from the bottom of the pan.

Add the chicken broth, cream, Parmesan cheese and basil. Stir and let simmer for 2-3 minutes.

Pour the sauce over the chicken breasts in the baking dish. Bake for 15-20 minutes, or until the sauce has reduced slightly and is bubbling, and the top has browned a little.

Top with more fresh basil or parsley and fresh Parmesan or Romano cheese, if desired. Serve over pasta or a slice of crusty bread to soak up the sauce. Enjoy!
Notes
Pasta – I typically use angel hair because that's our family's favorite. It would be delicious with fettucini or linguine, or whatever your favorite is, too!