We love a good meatball. One that is delicious on its own, without the need to accompany with pasta or bread, if one so desires. So this is the culmination of years of meatball-making, combining our favorite parts of many recipes.
The beauty of this recipe is that you can make changes based on what you have access to at the time. If you have fresh garlic and parsley – wonderful! If you only have powdered or dried versions, that will work, too. Fresh onion is always our preference so that you get the benefit of the butter it's sautéed in.
This recipe is not sauce-heavy. The sauce is intended to add a nice creamy element to the meatballs, not to create a soup or provide enough sauce for pasta. If you wish to serve these meatballs with pasta, you may need to increase the amount of sauce you make. We provide steps for making a sauce from scratch, however, you can definitely just purchase your favorite pre-made sauce from the store to heat up instead! As we mention in the recipe, we usually "doctor up" store-bought sauces with additional spices, a little cream and sometimes vodka.
For the meat, 80/20 beef is ideal. Don't fear the fat! Everything you've learned about animal fats has since been debunked. Animal fats have been a normal part of a healthy human's diet for thousands of years. Fat adds flavor, keeps the meat moist, promotes satiety (feelings of fullness), and it actually helps your body absorb the minerals and nutrients in your meal!
We like to serve these meatballs for dinner or an appetizer with small pieces of toasted sourdough bread. You could also serve them on top of pizza or just on their own if you're focusing on low carb meals.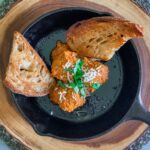 Print Recipe
Italian Meatballs
Delicious and healthy meatballs that will rival any Italian restaurant's!
Ingredients
Meatballs
1/2

Onion, diced into small pieces (equals about 1/2 cup)

(can use 3 tbsp of dried onion flakes or 1 tsp of onion powder instead – omit butter and saute step as well)

1

tbsp

Butter

1

lb

Ground beef

(80/20 beef is ideal. You can use ground pork or lamb for one pound of the meat)

1

tsp

Salt

2

tbsp

Fresh parsley, chopped

(or 3/4 tsp dried parsley)

2

Large garlic cloves, minced

(or 1/2 tsp garlic powder)

1/2

tsp

Black pepper

1/4

tsp

Red pepper flakes

2

tsp

Italian seasoning

(See note)

1/4

c

Milk

(or half-and-half or cream)

1/4

c

Panko breadcrumbs

(or 1/4 c almond flour)

1

Eggs

1/2

c

Shredded Parmesan
Simmering Sauce (alternatively, purchase a jar of your favorite pasta sauce to use instead)
28

oz

Crushed tomatoes

2

tbsp

Butter

1

Onion, chopped

1

Red bell pepper, chopped

2

Garlic cloves, minced

1/4

c

Water

2

tsp

Red wine vinegar

3/4

tsp

Salt

1/2

tsp

Dried oregano

(or 2 tsp of your favorite Italian seasoning)
Optional for serving
Toasted sourdough or other bread
Instructions
Melt the butter in a small saute pan over medium heat on the stovetop. Add the onions and saute until translucent, stirring occasionally (about 10 minutes). Remove from pan and allow to cool. Place them in a bowl in the fridge or freezer to help them cool quicker.

Dump the remaining ingredients (except the sauce) into a large bowl. Add the onions. Mix with a hand mixer, stand mixer or by hand just until incorporated.

Line two cookie sheets with parchment paper. Use an ice cream scoop or your hands to scoop meatballs onto the pans. We like to use a 4 tbsp size scoop to make rather large meatballs, but you can make them whatever size you prefer. When short on time, we simply scoop the meat onto the pans and skip shaping them into perfect balls – again, your choice and preference! Preheat your oven to 450 degrees and start preparing the sauce while the oven is heating.

Melt the butter in a large saucepan over medium heat. Add the onion and bell peppers and sauté about 10 minutes. Stir in the garlic and cook for another minute. Add the water, red wine vinegar, oregano or Italian seasoning, salt and crushed tomatoes. If you choose to use a store-bought sauce instead of making one from scratch, heat it in your pan and taste to see if it needs "doctored" up with a little cream, vodka or additional spices.

Change the oven to the broil setting and broil the meatballs until they begin to brown on top (about 8-10 minutes). Be sure to check them every few minutes to be sure the parchment paper doesn't burn. Meanwhile, finish preparing the sauce by bringing it to a simmer and letting it cook for about 10 minutes, or until the meatballs are done and have had a minute or two to cool on the pan.

Carefully add the meatballs into your pan with the sauce. The meatballs may not be fully cooked yet if you made them rather large, but they will finish cooking in the sauce. Allow the meatballs and sauce to simmer, stirring occasionally so the meatballs become coated in sauce. Cook for 15-20 minutes, or until a thermometer inserted into the center of the meatball reaches 160 degrees.

If you want to serve with bread, you can butter your slices or brush with olive oil and either toast buttered side down on a pan on the stovetop, or broil in the oven. You can also add garlic powder and/or Parmesan cheese to make garlic bread.
Notes
Italian seasoning – if you don't have an all-purpose Italian seasoning, you can substitute a combo of 1 tsp oregano, 1/2 tsp thyme and 1/4 tsp rosemary