Today is National Garlic Day!! We love garlic and we love that it has medicinal benefits that date back to Greek Olympians. Did you know those Olympian athletes used garlic to enhance their performance? Who knew?!
There's also evidence it can protect the heart, lower blood pressure and reduce the risk of certain cancers. It is a strong antibiotic and can reduce the frequency of colds. It's even been shown to help prevent premature delivery in pregnant women. But mostly, we just love its flavor and how it can easily elevate a regular dish to an "oh-my-gosh, this is amazing" one.
One of my favorite garlic-infused dishes brings me back to a trip to Portugal.
I remember the first time I had it. We were in the Algarve region, which is the southernmost region known for its beautiful beaches and inviting ocean. We sat down at this little restaurant frequented by locals. Locals know where to go, right?!
That's where I had my first taste of Portuguese garlic shrimp. The shrimp still had the tails on, which I wasn't used to and became a little wary of. But, oh boy! When I tasted it, I was smitten!
It was so delicious that it raised the bar for any future meals. It was SO good, in fact, that I had to try it at almost every other restaurant we visited if it was on the menu. I'm not kidding! It was wonderful to try all the variations and each one was delicious.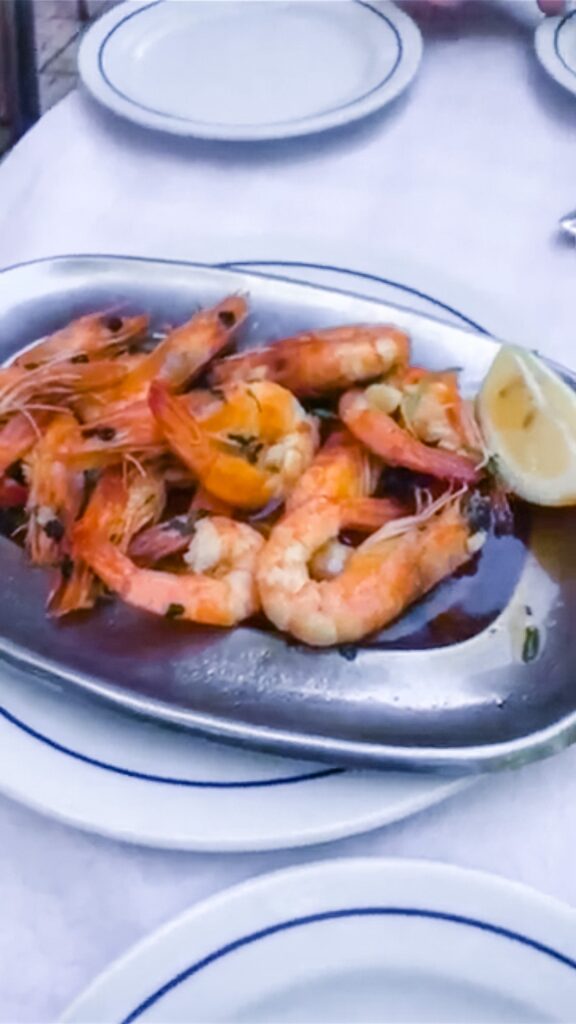 Here is my attempt of re-creating that version of the first restaurant I tried it from.
I've since made the dish here at home many times. It's incredibly simple to make and full of flavor. Every time I have it, I'm transported back to that little outdoor restaurant, basking in the sun, eating fresh shrimp sautéed in the abundance of garlic. I'm not sure if it's the garlic or not, but I'm feeling healthier already just thinking about it!
The dish is similar to garlic shrimp scampi and it's obvious when eating it in Portugal that each chef adds their own twist to make it their own. And you can do that, too! You can see from the pictures that sometimes the chef added cream to make more of a saucy version, while others were just the simple, yet perfect combination of garlic, butter (or olive oil) and salt.
Be sure to check the recipe notes. I provide explanations, substitution ideas and variations related to what shrimp to buy, bread to use and also suggestions if you're avoiding bread and seeking low-carb or keto options.
This is a great meal option that can be made in less than 30 minutes and with only five ingredients – all of which you can very easily keep on-hand in your home! That means after a long workday or all-day weekend outing, you can come home to your kitchen, prep this meal and enjoy it stress-free.
I hope you'll make it and channel the sound of the sea as the waves crash onto the shore. I hope you'll revel in the flavors of the dish and soak in its ability to nourish your body and soul. Let me know if you make it and how you like it!
Irene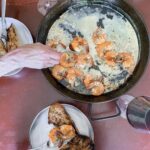 Print Recipe
Garlic Shrimp
A staple in Portugal, this simple meal channels the European seaside and warm evenings dining al fresco. You can easily make it in under 30 minutes. Pair with a glass of your favorite wine, some grilled bread and you've got yourself a perfect meal.
Ingredients
1

lb

Wild-caught shell-on shrimp, fresh or frozen

(can also use peeled, deveined – see note about shrimp)

6

Garlic cloves

3

tbsp

Butter

(or olive oil)

1/4

tsp

Sea salt

Red pepper flakes

(optional, if desired)

Sourdough or other bread for serving

(see note)
Instructions
If your shrimp is frozen, place the shrimp in a bowl of lukewarm water. Once thawed, drain.

If you are using shell-on shrimp, carefully slice down the back of the shell with sharp knife or kitchen shears. Use a knife to cut out the vein while making sure to keep the shell intact.

Slice each garlic clove into thin slices.

If you plan to serve bread with your shrimp, prep that so it's done at the same time as your shrimp. If you are using your oven to warm a whole baguette or bake a "take and bake" loaf from the grocery store, plan for that method accordingly. If you wish to serve toasted or grilled slices, you can do either of the following while you cook the shrimp at the same time:

Toasted method #1: butter (or oil) your slices and place them buttered-side down on another skillet on your stovetop and cook on medium-high heat until desired brownness.

Toasted method #2: place your buttered slices of bread on a cookie sheet and broil in the oven until your desired brownness.

Grill method: place your buttered or grilled bread buttered-side down directly on the grill grates and cook until desired brownness.

Heat the butter (or oil) in a skillet over medium heat on the stovetop. Alternatively, you can use your outdoor grill and a grill-safe pan (I love to use my paella pan on the grill for this dish!).

Once the butter is sizzling, add the garlic, shrimp, salt and red pepper flakes (if using). Sauté, stirring and flipping the shrimp every couple minutes until cooked through. You can tell the shrimp is fully cooked when the shells have turned a pinkish color (it will be obviously different from their original color). If you used peeled shrimp, you can tell when it becomes opaque. You'll be surprised how fast shrimp cooks!

Transfer the shrimp and garlic butter/oil to a serving dish. Serve with your bread and your favorite beverage. Sop up the garlic butter with your bread and/or smear on a little more room-temperature butter for a decadent treat!
Notes
Shrimp: we use different "types" of shrimp depending on what we have on-hand at home or what might be available at the store. If our store has wild-caught shrimp on sale at the fish counter, we'll pick up a pound of that and make this dish that same day or the next day. If our store has frozen shrimp on sale, we'll usually purchase a bag to keep on-hand for those times when we want this dish and want to use what we already have available. I love making this with shrimp that have the shells on whenever I can. I had this dish that way in Portugal as well as with peeled shrimp and you really can tell a difference in taste! However, as I said above, I decide which version of shrimp I use depending on what's available to me and my preferences on that given day! The only recommendation I will make is that you purchase wild-caught shrimp rather than farm-raised, as it is a much healthier option.
Bread: similar to the shrimp, we've served bread a number of ways with this dish. Sometimes, we use slices of Brianna's homemade sourdough bread and grill it or toast it. Sometimes, we use a "take and bake" batard or baguette from the grocery store and bake the entire loaf. Then, we slice it and smear it with some soft butter and use it to soak up all those delicious pan juices! The nice softness of the bread is a great accompaniment to the dish. The crunchier, tougher chew of the sourdough slices are a welcome change, too. We always have slices in the freezer so it's easy to use this when we don't plan to go to the store, or prefer it over a softer bread or larger loaf.
Low-carb / keto: you can certainly eat the shrimp alone and skip the bread. The shrimp is meant to be the star of this meal! You could pair it with your favorite vegetable side for some more substance to your meal. Another option is to make little Parmesan "shells" by sprinkling Parmesan or a similar hard cheese in small circles on a parchment- or Silpat-lined baking sheet and baking at 400 degrees until very bubbly and browning at the edges. Allow to cool enough to handle, and then you can wrap your shrimp in one and eat it like little shrimp scampi taco tapas! Say that five times fast! If you have the shell on your shrimp, you'd need to remove that first. 🙂