It's the most wonderful time of the year! With the holidays, comes gifting. We thought it'd be fun to round up our favorite wellness products and share them with you. They are great gift or stocking stuffer ideas for friends and loved ones!
We've done our best to categorize them and provide some basic detail about each item. We have each of these products ourselves (except for a few that we've noted) and are happy to answer any questions!
Help make 2021 someone's (or your own) year of best health with these gift ideas! To view, learn more or purchase one of these products, click on the name of the item (it's bold and underlined).
This post contains affiliate links and we may earn a small commission when you click on the links, at no additional cost to you. As an Amazon Affiliate, we earn from qualifying purchases. Each of these items we've recommended are products we use and love, and want to share them with you!
Muscle Recovery and Massage
Each of the tools listed here are made by Hyperice. These items are amazing for supporting muscle recovery, massaging sore muscles, helping increase pliability and provides deep tissue myofascial release. They are used by professional athletes, so you know they work! If you are sitting at your desk all day, they help to release stiffness. They also are fantastic for improving lymphatic circulation and increasing blood flow.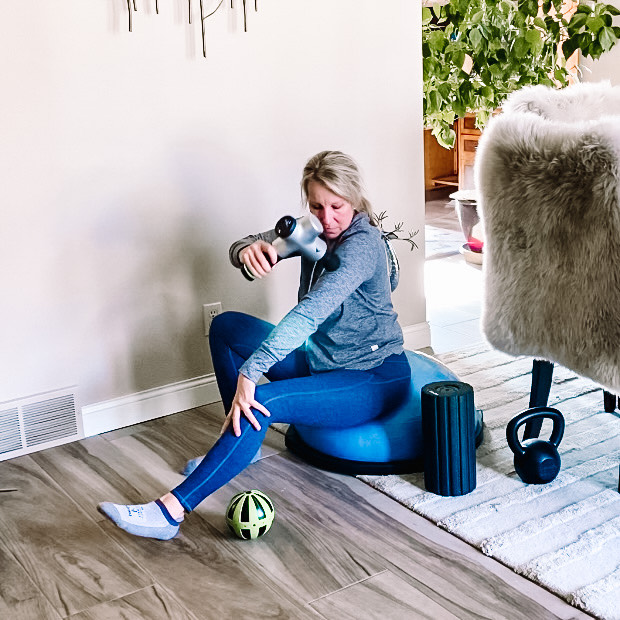 This massage gun comes with a variety of attachments to help work the "kinks" out of problem areas in your muscles. It is easy to use on yourself (except possibly on your own back) or on someone else. This tool is great for pre-workout to accelerate your warm-up. Studies show range of motion and flexibility before a exercising is improved so you get better results from your workout. Also, muscle performance is enhanced and muscle stiffness and soreness is reduced when you use this! Muscle pliability is enhanced and stimulation of fluid is increased inside the myofascial tissues.
This vibrating ball can be adjusted to your desired setting and provides great relief for tired muscles or sore areas. Irene has also used this on her clients for improved grip strength after one of her clients broke her arm. Because of its size and the vibrating aspect, using this tool improved circulation in her client's hand and arm and reduced swelling. (This was done after the break was healed but there were still residual problems).
This is the same concept as the ball mentioned above, just in a much smaller size. You can really focus on small areas with this ball! If you need gift ideas for the active traveler in your life, this ball is great because of its easy portability. One use that many may not think of this for is breaking down scar tissue resulting from injury or surgery. Irene had one of her clients use this for that very reason and it did wonders in getting rid of scar tissue that was causing pain for her client after having had surgery. Her client shared this with her doctor who now recommends it to all of his patients.
This provides the same vibrational massage as the other items mentioned above, but in a "log" or more traditional roller shape. This is great if you don't have someone who can help you with hard to reach areas like your back or hamstrings (it's comfortable enough to roll on top of while still providing powerful vibrations and relief).
Personal Development, Health and Mindset Books
Looking for gift ideas for the reader on your list? This is a small selection of some of our favorite books we've read in the past few years. For most of these books, you can choose to purchase a Kindle version, Amazon Audible Audiobook version or hardcover version.
#1 National and #1 International bestseller of the year. Insightful and fascinating research on human behavior. Jordan B. Peterson is a brilliant and thought-provoking psychologist. Funny, serious and full of substance. This book is worth the read.
Make new habits, break old habits. James Clear breaks down the steps to create new systems to improve your life. It's the small steps that help build new patterns. Re-shape the way you think about achieving progress and success.
Dsclaimer, we have this book, but have not read it yet! It's in the queue with many others on our to-read list. 🙂 However, it's been recommended by medical professionals and others in our network who we trust and follow, so we feel confident including it in our recommended reads list. Breathing truly is a lost "art" and has an impact on our health. The author shares information on what those impacts are and how we should be breathing. This book combined with Jaws, also shared in this list, would be great complementary reads and might be a nice "bundle" gift!
If you feel overwhelmed on a regular basis, this is a fantastic read. The author explains how to simplify your life in a straight-forward approach, allowing you to be more effective in the areas that matter AND live happier.
Similar to Breath, this book focuses on the use and health of our jaws, the correct mouth posture that goes with nasal breathing, and how things have shifted over the years and the associated repercussions. It provides super interesting information on how proper jaw alignment affects our health in so many other varied ways such as sleep apnea, SIDS, malocclusion, and dental caries. Truly amazing information! As mentioned above, this book would be a great complementary read to Breath because they talk about integrated topics.
There is a scary movement led by the media and a group of extreme environmentalists encouraging less consumption of meat, in favor of more plant products and processed fake-meat products. We've written our own perspective on why this shift is dangerous to our world and our health. We recommend this book because it provides great information from experts in the areas accused and affected, and debunks the claims made against the consumption of meat. We also recently posted about our reaction to the new documentary with the same name that is a follow-on to this book. It's not available to the public, yet, but when it is, we highly recommend watching.
More than weight loss, this book explains how and why obesity is more than just about calories in and out. It's about how insulin plays such a huge role in why people become overweight and what to do about it. Read it for a fascinating perspective on how our body handles food and how you can stay healthy by when and what you eat.
Physical Activity Tools and Equipment
Here are some of our favorite tools, gadgets and equipment for supporting your health. These are perfect gift ideas for the person working and exercising from home.
We love pedometers for helping measure how many steps we're taking in a given day. With so many people working from home, it can be easy to fall into a sedentary pattern – sitting for most of your day and only walking to and from a few rooms in your house. Many smartphones have built-in pedometers, though they aren't as accurate as a pedometer that remains stationary on your hip.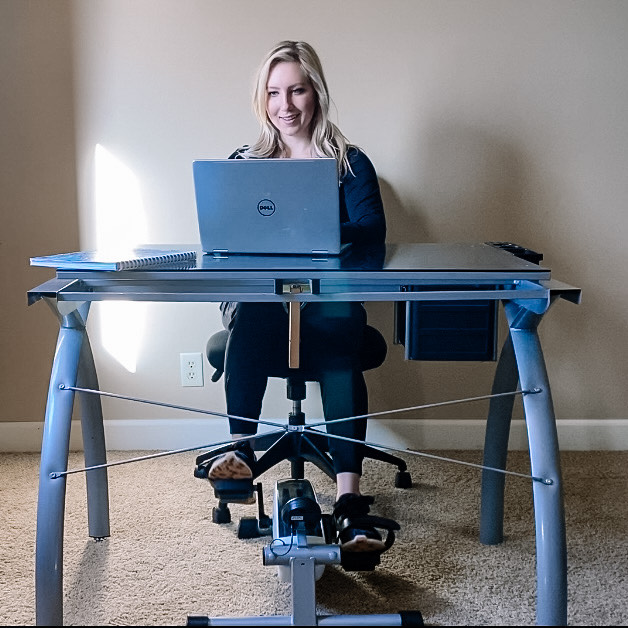 This thing is awesome!! Standing while working is great, but it's not easy to do for an entire work day. This bike can be placed underneath your desk and you can pedal as slowly or as quickly as you like while working at your desk. We've tested it while in Zoom meetings and on video webcam and it's inconspicuous!
We don't personally have these specific products because we already have countertops in each of our homes where we stand and work. These are great products for the person who doesn't have access to work at a surface while standing, or who needs a solution for a designated space in their homes.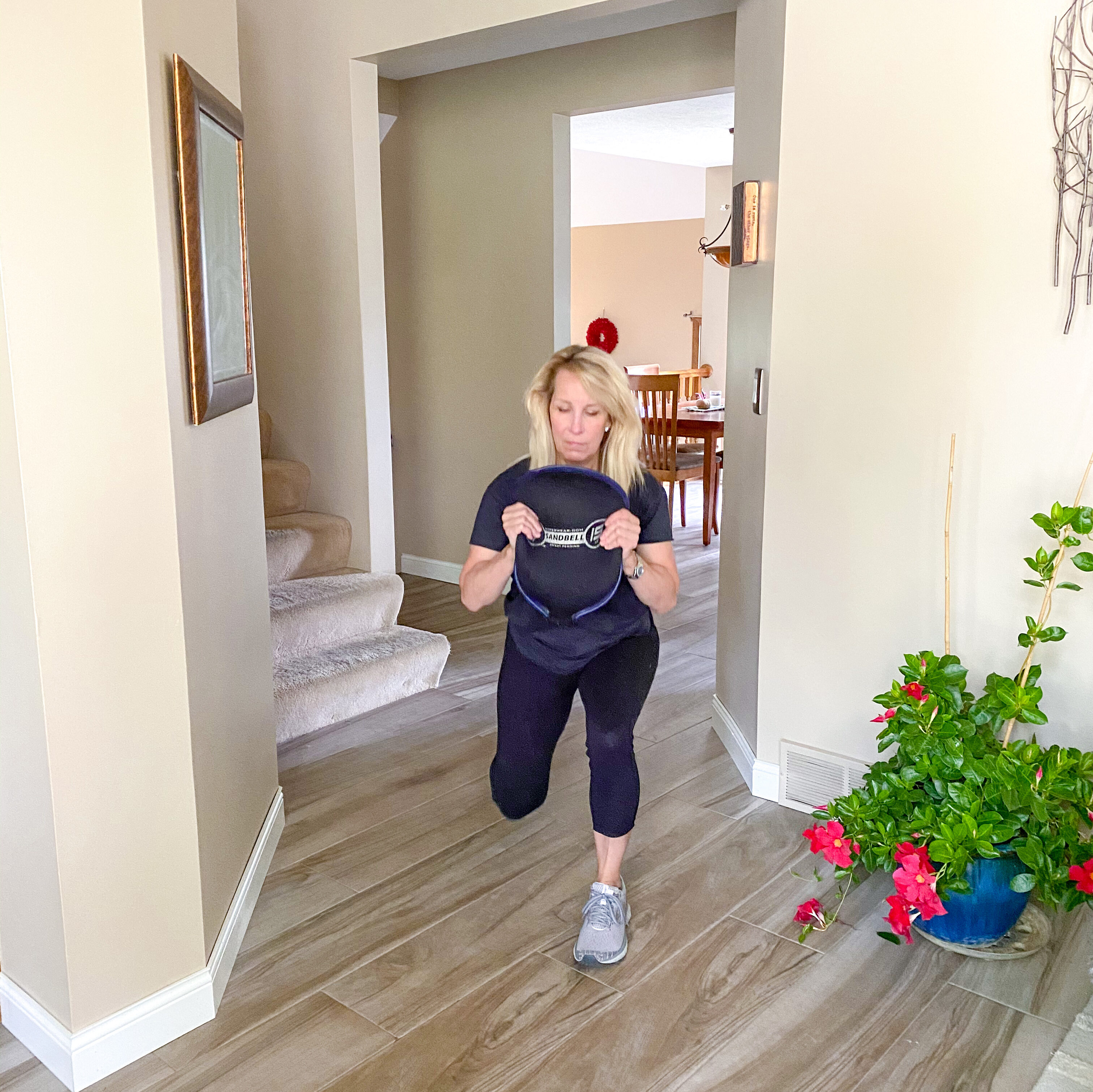 This and the next two items are products we highlighted in our recent article about Irene's favorite exercise tools/equipment. You can read the article for a little more description about each of them. As Irene shares in the other post, "The beauty of [sandbells] is they combine the benefits of using dumbbells, kettlebells, slam balls, and medicine balls. Because there's sand inside, the weight shifts and adds momentum when used in dynamic movements. This helps improve core stability, grip strength, and even balance. Sand bells are extremely versatile. They help improve grip strength which is an under-appreciated goal. They're great for explosive throws and slams, presses, rows, squats, and core work, just to name a few."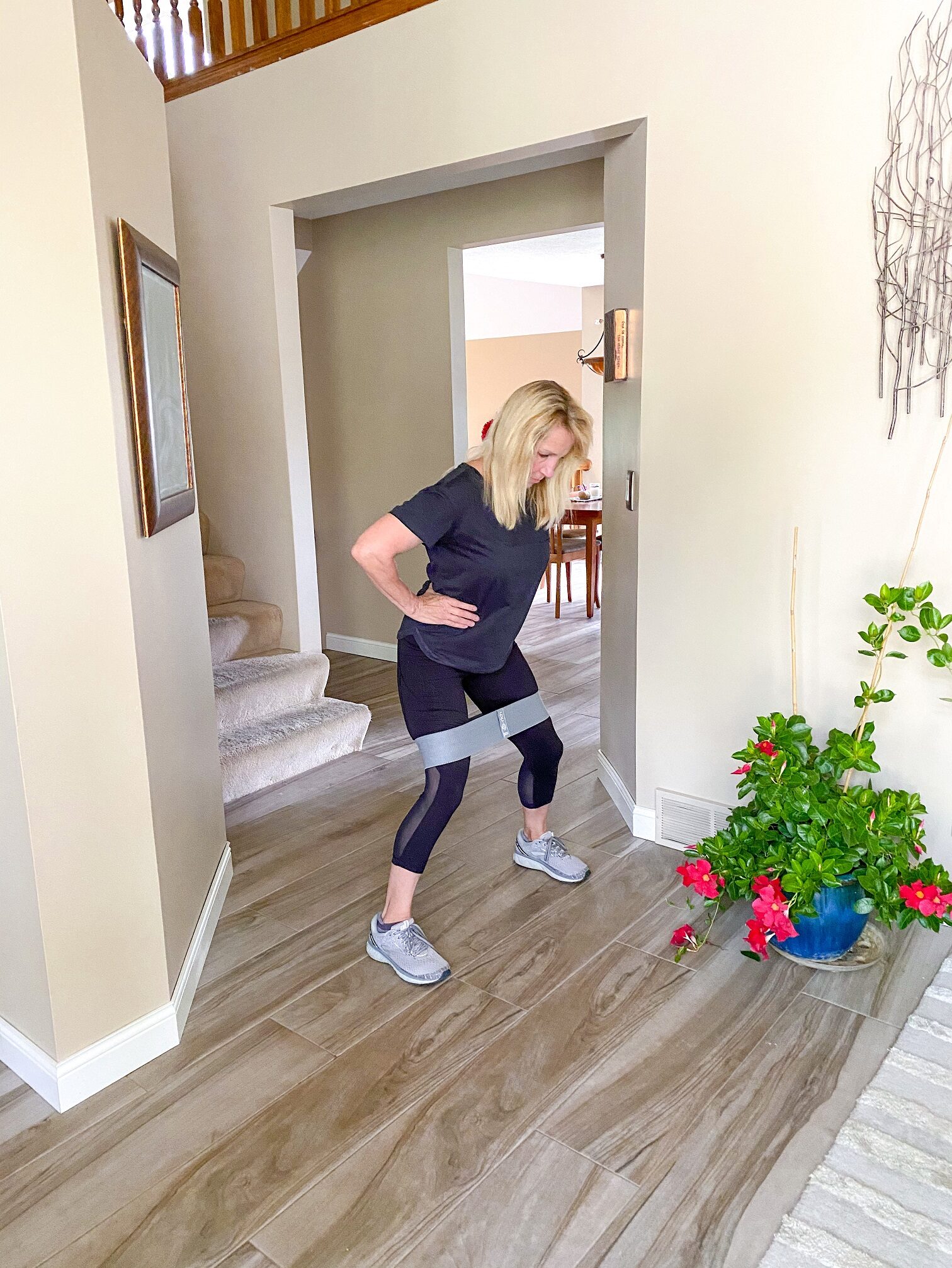 Irene shared about hip bands in the other article we referenced: "Hip bands target the muscles around the hip, and the glute muscles. By strengthening these areas we reduce the risk of injury, build hip integrity, and increase activation and recruitment. Strong glutes and hips are a cornerstone for activities such as walking, running, jumping, hiking, and climbing. You also strengthen your hip abductors and external rotators while training with better form and alignment. I even like to use these bands for upper body movements such as push-ups, chest presses, biceps curls, shoulder presses as well as core exercises."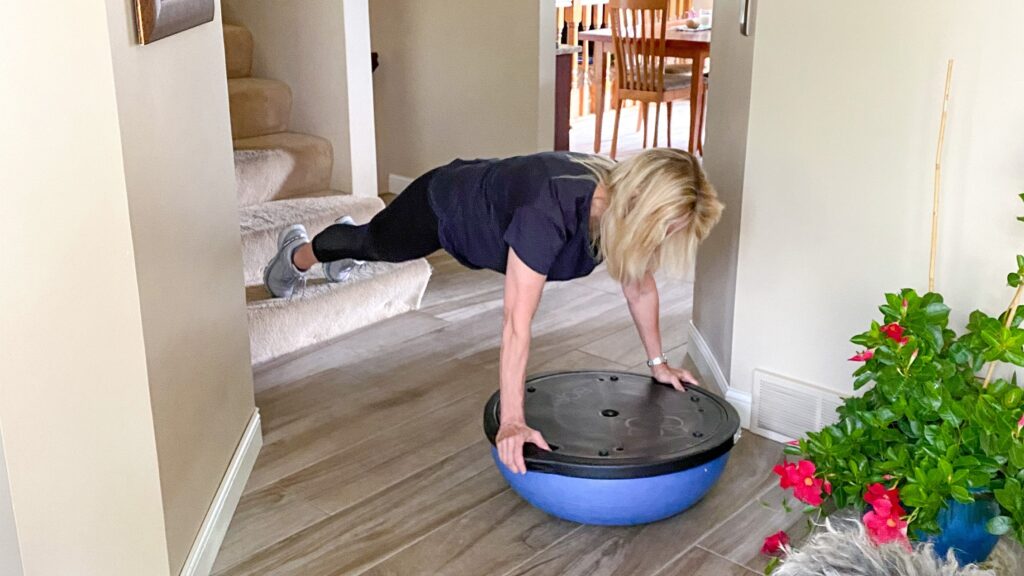 From the same article mentioned before, "This could be described as a stability ball cut in half. It provides resistance and stability training and is super effective for strengthening feet, ankles, knees and hips.
I've been using this for years to help my clients improve their balance, which we all can benefit from at any age but especially as we get older, perform high intensity cardiovascular and agility drills, increase core strength, and provide low-impact, multi-muscle and joint movements to function and work together as our bodies were designed. It's a mindful tool meaning you have to be aware and focused as you perform your exercises because it will force you to use your proprioceptive skills to maintain good form and balance."
Versatile and great alternative to dumbbells, kettlebells allow you to improve your strength, flexibility and stability.
Anywhere, anytime work-out bands that offer great variable resistance through the full range of motion. This means the muscles are activated throughout the exercise. Your muscles are working the entire time! Portable, easy to use, and super effective.
Athletic and Lounge Clothing
Want some gift ideas for apparel? Our favorite brand for activewear is Vuori Clothing. We talk about our love for this brand often in social media. That's because it's incredibly comfortable and functional. Most of their products are intended to be used for both physical activity and daily wear. There are also products intended more for one than the other. Whatever you use it for, it moves with you and is so truly comfortable. On our gift list for members of our family. Try one piece and you'll want more!! The clothing is high quality and also flattering. For the most buttery-feeling pants (for men and women) check out their Performance joggers!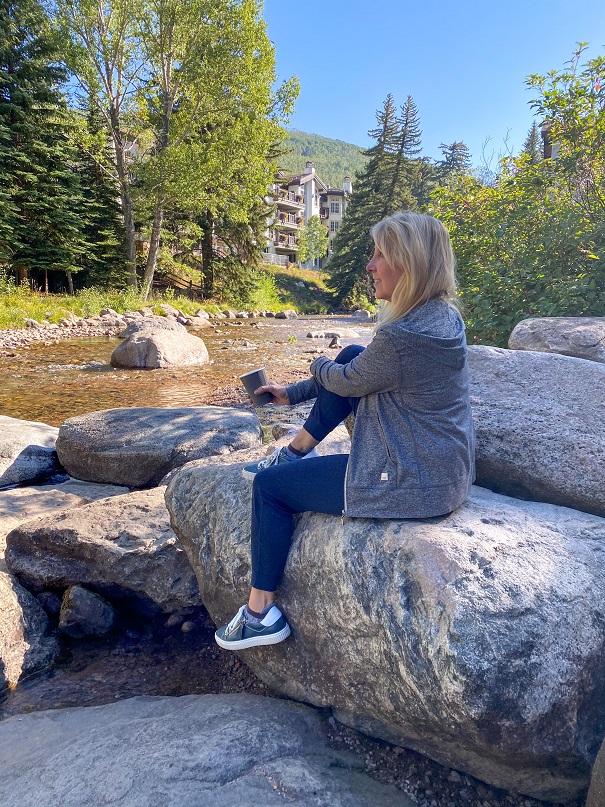 We hope this gift guide gives you some wellness-focused gift ideas for the loved ones in your life! Happy Holidays!
Irene & Brianna