Looking for a way to use those beautiful mushrooms popping up at your local grocery stores? We have the perfect recipe for you! This one hits all the marks. Healthy-ish (mushrooms have great nutritional benefits), delicious, and, well, tacos – need we say more?
This recipe makes a great main dish if you're not feeling any meat for that meal. It would also be a fun appetizer to serve by having the mushroom mixture, cheese crisps and tortilla shells separate and allowing others to make their own tacos.
If you're interested in the backstory of how this recipe came to be, keep reading. If you just want the goods, click "Jump to Recipe" above, or scroll all the way down!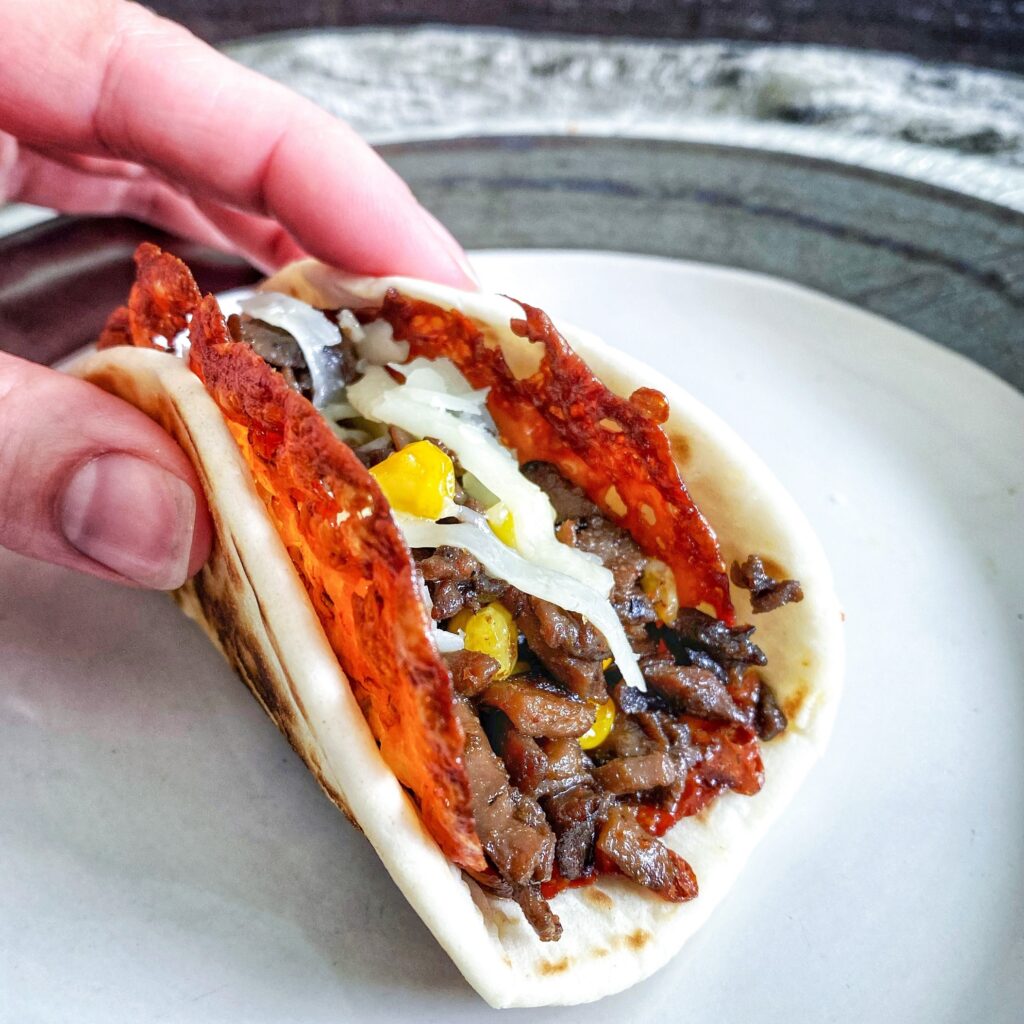 My husband, our baby boy and I went skiing with friends at Copper Mountain back in January. Brooks was only 6 months old, so he didn't get to do any skiing. I can't wait for the day when we clip him into his tiny little skis and help our little man down the slope in the most adorable puffy coat and baby goggles!
On one of the days that I didn't ski, Brooks and I met up with Tyler in the village area of the ski resort. We walked by a little taco shop called Mahi's Street Tacos and decided to give it a shot. There were only a handful of tables and all were packed with skiers. By the looks of the line at the counter and the spices in the air, it was clear this was a hidden gem among so many larger options serving mediocre bar food.
We had a hard time deciding what to order, but narrowed it to three tacos that we would share. We snagged a table from a family that was getting up to leave and then our number was called indicating our food was ready. We each bit into a taco and subsequently looked up at each other. They were so good! We traded and took another bite – same reaction! Then we each tried the third taco we ordered. No way could all three kinds be home runs, right? But each one was. They were so good that we wished we had ordered more. Knowing we were in for a hearty meal of spaghetti for dinner, we decided to hold off on ordering anything else (sad, I know).
The next day, Brooks and I ventured back to the village area to meet up with Tyler and our friends. It would be several hours before they were done and I had yet to eat lunch. So, since it was just Brooks and me, we headed to the little taco shop! The previous day, I was interested in a taco called "The Forager" which starred mushrooms as the main character. Tyler wasn't too excited by the idea of a meatless taco so we decided to skip it.
But this round was MY time. I had to answer to the opinions and preferences of NO ONE but myself! It felt strange and overwhelming. How would I choose? So many things sounded good! Do I order the ones I loved from the prior day or do I take a gamble and try something new?!
By the way, this is an ongoing (albeit, loving) disagreement in Tyler's and my marriage. Tyler's approach to food, particularly at restaurants, is when you hit a goldmine of deliciousness, you order it every time. He always justifies it by saying, "What's the enemy of a good plan? The idea of a perfect one."
I, on the other hand, prefer to try new dishes. When Tyler starts saying "…the enemy of a good plan," I quickly cut him off with, "…finding a better one!" Of course it's always a little bit tug-and-war inside my head. There's almost nothing worse when you decide to venture for something new, only to be extremely disappointed and wish you had ordered the thing you already knew and loved. But, such is life, right? There have been countless times where I ordered something new and loved it even more than the "old" thing, and that's what gets me – the thrill of anticipation, novelty and possible celebration.
But I digress.
After much pondering, I decided to order three new types of tacos, one of which was The Forager. The guy behind the counter applauded me for ordering it, saying "you won't be sorry." In the back of my mind I was thinking, "you better be right or Tyler will give me such a hard time!" So, I took one bite and went into taco euphoria. The taco guy was SO right! It was amazing! I don't care if you're a carnivore or vegetarian – this taco was ridiculously good. It had sauteed, almost caramelized mushrooms mixed with seasoned corn kernels. The filling sat inside a circle of cheese that had been cooked until crisp (also known as "frico"), all tucked nicely inside a soft flour tortilla. It tasted like I was eating beef, except with so much more flavor thanks to the umami of the mushrooms.
While I was mid-meal, Tyler called and said he was taking a break and asked if I wanted to meet for more tacos. I replied, mouth half full, sputtering pico de gallo, "well…..I'm actually here right now." I saved a portion of each of my tacos and waited for him to meet me – I knew he had to try these before he ordered his same ones from yesterday.
He did try them and his reaction to the mushroom one was just like mine! (I love when I prove his saying wrong!) He ended up ordering two of them just for himself!
I knew I had to recreate these at home. I jotted down the ingredients from the menu before we left and started planning my experimentation. We attempted the tacos the week after we returned. After a little trial and error, we nailed it – they tasted just like the ones we had!
I hope you try them! They have such a delicious mix of flavors and textures and are a perfect meal or appetizer for warmer weather. Mix up a batch of our 3-ingredient margaritas, make these tacos and dine al fresco on your patio on an upcoming sunny evening! Perfection.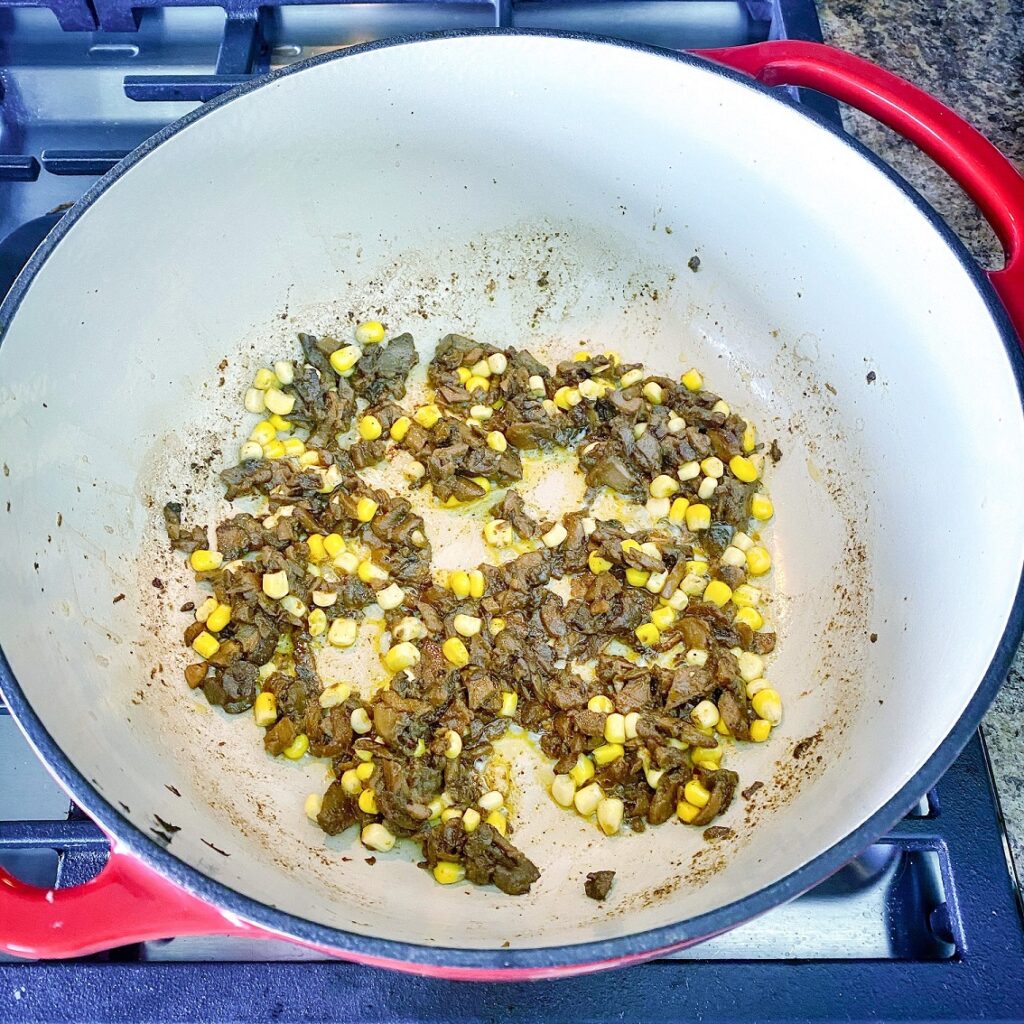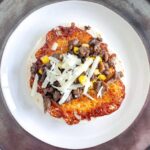 Print Recipe
Crispy Mushroom Tacos
These meatless tacos are so tasty – they'll appeal to carnivores and vegetarians alike!
Ingredients
8

oz

Cotija cheese, grated

(see note)

1/2

c

Frozen sweet corn

2

10 oz

Bags frozen organic mixed mushrooms, thawed

(can sub 20 ounces of fresh mushrooms instead – use a mix or your preferred type)

4

tbsp

Butter

1/2

tsp

Salt

1/4

tsp

Black pepper

1/4

tsp

Chili powder

1/2

tsp

Garlic powder

(or 4 small cloves of garlic, minced)

1/2

tsp

Onion powder

1/2

tsp

Cumin

Flour tortillas

("mini" street taco size pictured, but you can use whatever size you prefer!)
Instructions
Preheat the oven to 400 degrees Fahrenheit. Line a cookie sheet with parchment paper.

Set aside a small handful of grated cheese in a separate bowl – you'll use this for topping the tacos at the very end (you don't need a lot).

With the remaining cheese, create small piles on the parchment paper, equal to the number of tacos you're planning to serve. The size of the circles should be similar to the size of your tortillas. Set aside, and begin working on the mushroom filling while the oven continues to preheat.

Empty mushrooms into a colander to drain any liquid. If you did not thaw the mushrooms beforehand, you can use them straight from the freezer following the remaining steps listed, it will just take longer for them to cook and caramelize.

Once most of the liquid has drained, chop the mushrooms into small pieces.

Place a saute pan on the stove and turn on burner to medium heat. Add the butter and let melt.

Add the mushrooms, garlic powder, onion powder, chili powder, cumin, salt and pepper. Stir to combine and increase heat to medium high. Allow the mushrooms to begin sizzling. As they heat through, they may release more water (especially if they weren't thawed ahead of time). Stir occasionally, working with a spatula to release any pieces that may be stuck to the bottom of the pan. While the mushrooms are cooking, prepare the cheese crisps.

When the oven is ready, insert the pan and cook the cheese for 10-12 minutes, or until very bubbly and browned around the edges. Remember to stir the mushroom mixture periodically during this time. If it feels like the mushrooms are cooking too quickly, reduce the heat a bit. When the cheese crisps are done, remove the pan from the oven and set aside to cool slightly.

Continue cooking the mushroom mixture until the mushroom pieces become extremely soft and have begun to caramelize. At this point, they will have browned on some sides and edges and will smell fragrant.

Add the sweet corn kernels to the mushroom mixture and stir to coat the corn in the remaining butter and seasonings. Cook another 5 minutes or so, until the corn is very hot and some pieces may be beginning to brown. Turn heat off and set aside while you prep your tortillas.

Heat a cast iron skillet (another pan can be substituted) and put just enough butter or oil to lightly coat the base of the pan. Add as many tortillas as will fit at a time and cook until the edges begin to brown. Repeat the process as necessary, keeping your cooked tortillas covered inside a cloth in a bowl.

Prep your tacos by placing a cheese crisp down first, followed by some of the mushroom corn filling, followed by a sprinkle of the remaining Cotija cheese. Enjoy!
Notes
Cheese – Cotija cheese can be found in most grocery stores. However, if you can't find it, or are making these on a whim and don't have it on hand, you can substitute shredded cheddar, pepperjack or even mozzarella. Parmesan would work well, too, it just will be a stronger flavor and slightly different than the Mexican flavors you'd expect.