Have you ever tasted the difference between homemade ranch dressing and store-bought? If you have, you know that homemade tastes SO much better!
We wanted to share our recipe for a delicious ranch dressing you can easily make at home. Since we try to avoid seed oils whenever possible, we've made this without the addition of mayonnaise. It's easy, tastes better, and is far healthier than store bought bottled dressing. Try it and see for yourself!
As written, the recipe produces a thicker consistency ranch that works great as a dip. If you desire the consistency of a dressing, increase the buttermilk to 1 cup, or add as much additional half & half, cream or milk needed to reach your desired consistency.
We also share easy substitutes you can make for certain ingredients, if needed.
Enjoy as a dip for wings, vegetables or any of your favorite foods to eat with ranch!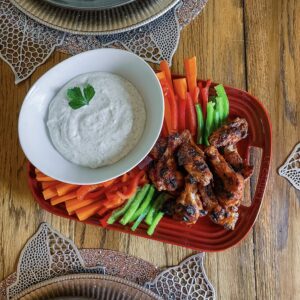 Print Recipe
Better Ranch Dressing (Dip)
This ranch recipe is rich, creamy and full of flavor. It's also better for you since it skips the use of mayonnaise (and therefore, seed oils).
Ingredients
8

oz

Full fat cream cheese, room temperature

(can substitute Greek yogurt or sour cream – see note)

3/4

c

Buttermilk

(see note)

2

cloves

Garlic, minced

(or 1/4 tsp garlic powder)

2

tsp

Dried dill

(or 2 tbsp fresh dill)

1/2

tsp

Onion powder

1/2

tsp

Salt

(or to taste)

1/4

tsp

Black pepper
Instructions
Whisk by hand or use a hand mixer to thoroughly mix all ingredients. If you want a pourable, dressing-like consistency, add more buttermilk (or milk, half and half or cream) until your desired consistency is achieved.

While this tastes great and can be used right away, letting it sit for an hour, or even overnight (which is great when you want to prep ahead), really allows the flavors to develop.
Notes
Substitutes for cream cheese – equal amounts of Greek yogurt or sour cream can be substituted for cream cheese, if desired. Just know that sour cream will have a much tangier flavor than cream cheese. Greek yogurt will have a slightly tangier flavor than cream cheese, and will not be as rich.
Buttermilk – if you don't have buttermilk on hand, you can make your own with an equal amount of milk, half and half or heavy cream (or some combination) and a tablespoon of white vinegar or lemon juice. Let sit for five minutes before mixing with the rest of the ingredients in the recipe.