It's funny how often we hear this response when we mention sardines to someone: "I remember my grandparent eating those!"
While once more common in the US, the tiny fish in a tin are a rarity in most people's diets today. Which isn't a good thing, considering how nutritious sardines are and how NOT-nutritious most people's diets are today!
We choose to live differently than how society tells us to live, since we know what's considered "normal" for diet and lifestyle is sending people down a path of decline.
So, we encourage you to live differently, too, and take control of your own health!
If the idea of eating sardines grosses you out, keep reading to learn about why you should at least give them a try (or twenty), our favorite brands (we've tried a lot of them), and our favorite ways to prepare them.
With some strategic shopping, we've purchased sardines for as low as $1.25 – $2 a tin.
Considering the amount of nutrition these packed fish pack for us, that's a dollar menu item that we're on board for! For those who think they can't eat healthy food on a tight budget, here you go.
Sardines are a fatty fish, meaning they are high in Omega-3 fatty acids. The three brands we talk about in this article range in 1,700 – 1,900 mg per tin. Most people aren't getting near enough of this important nutrient in their diets. Adequate levels of Omega-3 fatty acids support brain and cardiovascular health, and keep your moods in check.
As Dr. Andrew Huberman says, we are a fat- and amino acid-foraging species, meaning our bodies continue wanting food until adequate levels of those nutrients are ingested (which is never for many people). If you aren't eating fatty fish (like sardines or wild salmon) a few times a week, plus grass-fed beef, butter and pasture-raised eggs, you are not getting enough Omega-3 fatty acids.
Besides their amazing fatty acid content, sardines are also high in a wide range other nutrients. Here are some of the notable nutrients and vitamins they contain:
136% of the recommended daily value (RDV) for vitamin B12
50% of the RDV for vitamin D (some brands are 15%)
15% of the RDV for calcium (as long as they're not boneless)
10% of the RDV of iron
10% of the RDV for vitamin B6
9% of the RDV of magnesium 
Most Americans are low or deficient in every one of these vitamins.
And, it's typically difficult to get a significant amount of vitamin D from food sources, so 50% from a 200-calorie item is pretty impressive.
Besides the incredible nutrition provided, sardines are a fantastic source of protein and fat, and low in carbs. This means they will make you feel fuller, for longer.
Also, sardines are a wonderful fish to consume for pregnant or breastfeeding women, as well as a first food for babies!
Since they are so small, their mercury content is very low and not a concern for these specific groups of people.
So now that we've convinced you to try sardines for their amazing nutrition, let's talk about brands and preparation.
We'll admit, the first time we peeled back the top flap of the sardines tin, we were a little apprehensive. We weren't used to eating fish with scales on them, nor ones packed in olive oil. Now, we eat them several times a week and love them! Over the years, we've tried a number of brands, and we'll share our favorites here. After that, we'll share some of the ways we like to prepare them.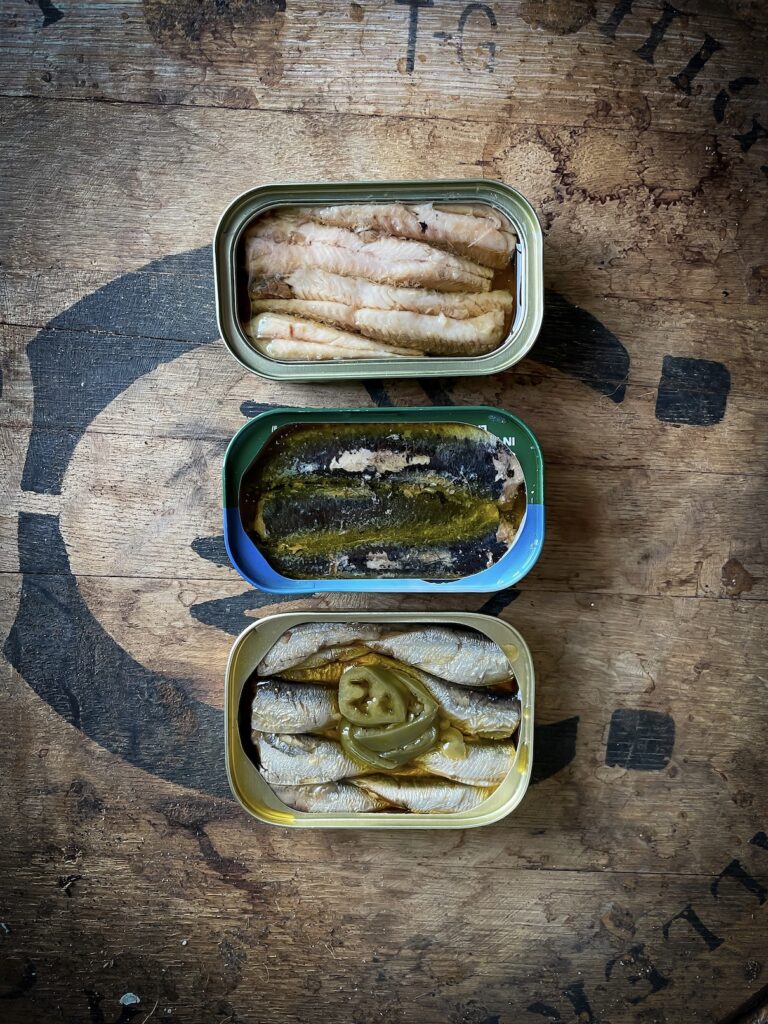 Our favorite types of sardines are the Wild Planet wild sardines packed in Extra Virgin Olive Oil. We can get a 6-pack for $9.99 from Costco, but we've also gotten them for great prices from Amazon. Amazon also has more varieties, including wild sardines packed in water with no salt added and boneless, skinless options, too.
We like to eat these straight out of the can or cooked using the method mentioned further down in this article.
Costco also sells the boneless, skinless Season brand sardines for $9.99 for a 6-pack. On Amazon, you can purchase other varieties, including bone-in, skin-on sardines and ones packed in water, without salt.
The boneless, skinless Season brand sardines taste very similar to tuna. We consider these the "gateway" sardine to try for those who are skeptical.
We eat these right out of the can!
These sardines were one of the first brands we tried and have to admit – it was not a good experience. These sardines tend to be much smaller, oilier and smell more fishy than the other two brands mentioned. So as an already skeptical newbie to the sardine world, this wasn't the best first brand to try. Now that we are total sardine converts, we do like this brand for something different in our rotation. We recently purchased the spicy ones with jalapeños and they were very good!
Because of their stronger scent and oilier texture, we like to cook these using the method mentioned below.
What about the bones?!
For some people, the visual of seeing bones, scales and/or tails on their food freaks them out and prevents them from trying sardines at all. Remember, ANY type of wild-caught sardine is better than no sardines! While the bone-in type contain some added nutrition like calcium, the boneless ones pack TONS of nutrition on their own. And, if you start with boneless ones, you may find at some point that you start liking the bone-in kind, too. If you're wondering about the texture, the bones are virtually undetectable in the small sardines. In the bigger sardines like the Wild Planet ones, they have a slight texture, but it's still soft, not hard or crunchy like some people fear.
So again, if you are a first-timer and a little hesitant to try sardines, we recommend starting with the Season boneless, skinless sardines.
Then, you might try the Wild Planet bone-in, skin-on ones (or the same version from Season), as the those have some added nutrition like calcium.
Also, remember that our taste preferences can change over time.
So, if you find you don't like something the first time you try it, if you continue giving it a chance, you may find you start to like that item after a period of time. It's like when babies start trying solid foods – the general guideline is that a baby needs to try a food 20 times before you can really determine if they like that food. TWENTY times! So maybe you need to try sardines twenty times before you decide, too…
Our Favorite Ways to Prepare Sardines
Eating them straight out of the can.
The Season and Wild Planet sardines are delicious mashed up and eaten just like that! Brianna often does that when she is short on time and needs a quick meal for herself.
Sometimes, we dress up the mashed sardines with a little sea salt, a little lemon and sometimes a little finely chopped sweet or red onion. Hot sauce is also a nice addition. Feel free to experiment!
Sautéed in a pan.
We love this Asian-inspired method of cooking our Wild Planet or King Oscar sardines.
Chop up 1/4 – 1/2 a yellow onion and sauté in a pan with a little of the oil from the sardine can until softened (a few minutes).
Add in the sardines, a few dashes of soy sauce (or tamari / coconut aminos) and a dash of fish sauce (you can skip the fish sauce if you don't have it on hand). If your soy sauce is low sodium, add a pinch of sea salt. Cook over medium to medium high heat until the soy sauce has begun to caramelize and the onions have turned slightly brown. There's no need to break up the sardines, though you can.
Transfer to your plate or bowl, and drizzle a form of acid over all of it. We like lime juice or rice wine vinegar, but you could also use lemon or another type of vinegar.
There are countless other ways you can eat sardines!
A quick online search can provide some more inspiration. These are our two favorite ways because they are quick, easy and delicious. They also don't require any added things like crackers or bread, which we try to minimize in our diets overall.
So, are you convinced? Are you ready to give sardines a try?
Remember, that it might take several tries before you start to develop a taste preference for them, so don't throw in the towel after one time. Try them using different preparation methods to see what you like best. For example, when we first started eating them, we liked them on sourdough toast with mustard!
Good luck on your sardine journey and if you try them, be sure to tag us on social media and use the hashtag #sardinequeen!
Active-ists for your health,
Brianna & Irene