I remember, long ago. My mom and I stopped by a neighbor's house. I was maybe 8 or 9 years old. I don't remember why we were there, but I do remember one particular part of that visit. The woman had a plate of deviled eggs out on the counter and offered it to us. I had never tried a deviled egg and willingly took a bite.
Eww.
One bite was all I needed to know that I hated deviled eggs.
After that, anytime a deviled egg was in my presence, I readily avoided it. Then I met Tyler (my now husband).
It was the early days of us dating and he informed me that he makes "the best deviled eggs," to which I thought in my head, "isn't that an oxymoron?" But what do you do for those you're smitten with? You try the food they make. So I broke my rule of never eating deviled eggs again and tried one from his batch. Lo and behold – it was delicious! I couldn't believe it, but I was a deviled egg convert.
Perhaps it was the 13 years or so that passed since my first taste that made the difference. After all, I no longer had the palette of a 3-year-old and now enjoyed things like onion, condiments, spice and cilantro. But, I think the real difference was the recipe. And I suppose the hunky man preparing them for me helped, too. Wouldn't it be nice if everyone in this world had a Tyler in their life to prepare them delicious deviled eggs? All I can say is, lucky me!
If you open my fridge these days, it's very likely you'll find a container of prepared deviled eggs. Eggs are extremely nutritious and this is a great way to get our daily dose. I eat them for breakfast or a snack. They also make a great side or appetizer for a party!
If you search for deviled egg recipes online, you'll notice there are countless opinions on what makes a good deviled egg. Some have mustard, some have vinegar, some have added sugar, etc. Some have a long list of ingredients while others only require a few items.
Tyler's recipe is simple, easy and delicious. His original recipe would use Hellman's mayo (and yes it has to be Hellman's!). While I do love the taste of them, I now try to eliminate seed oils from our diet whenever I can.
I've made them with our homemade mayo and they're definitely good, but you can taste the olive oil flavor. It's different than that traditional deviled egg flavor we all know and love. I've tried with avocado oil, but those did not taste good at all. As a result, this recipe uses an alternative ingredient to mayo, and is the closest taste to Tyler's original recipe.
If you're avoiding dairy, you might try making this recipe with our homemade mayo that I referenced above! It's different, but still really good. If you are making these for a party or a time where you may not be that concerned about having store-bought mayo, then definitely try them with Hellman's!
For the relish, aim to find a brand that uses real cane sugar instead of high fructose corn syrup. It's a less processed ingredient.
Feel free to add chopped bacon or green onion for a little flavor boost. I've also made variations like ranch, Asian and pimiento cheese deviled eggs in case that inspires you. I'll share those recipes soon. In the meantime, be sure to try these, give them a rating and let us know what you think!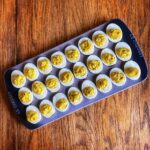 Print Recipe
Healthy Deviled Eggs
This recipe uses an alternative to store-bough mayo containing seed oil. These are excellent for a meal, snack or to bring to a party!
Ingredients
12

Hard-boiled eggs

(see note for my favorite cooking method)

1/3

c

Heavy cream or half & half

(or 1/4 c of our homemade mayo or Hellman's mayo)

2

tbsp

Sweet relish

1/4

tsp

Sea salt

(more to taste)
Instructions
Peel and slice each of your eggs in half, removing the yolks and placing them in a separate bowl.

Mash the yolks with a fork until there are no large chunks left.

Add the sweet relish, salt and about half of the cream. Mix until well incorporated. Continue adding small amounts of cream until you have a smooth consistency. The mixture should no longer be grainy in appearance, but should also be sturdy enough to hold its shape once you fill each egg. Taste and add more salt, if needed.

Fill each of your egg halves with the mixture. You can use a spoon to drop it in, helping scrape the yolk mixture off the spoon with a clean finger. You can also transfer the mixture to a plastic baggie, cut off one of the corners and pipe it into the halves for a more attractive appearance.

Top with a sprinkle of paprika, sliced green onion or chopped bacon, if desired. Enjoy!
Notes
My favorite method for hard boiling eggs is to use the Instant Pot. Simply place your dozen eggs in the pot, add a cup of water and cook on high pressure for 5 minutes. Prepare a bowl with ice water. When the Instant Pot is done, manually release the pressure right away and transfer the eggs to the ice water. Refrigerate until completely chilled. Your eggs should peel very nicely and you can give them a little dip in the water to remove any remaining bits of shell. Set them on a clean cloth or paper towel to dry while you prepare the yolk mixture.