The plant-based fad is increasing in popularity at an alarming rate. Sensationalized documentaries on Netflix, big name food publications and a number of well-known celebrities have taken a role in promoting a plant-based lifestyle, blaming meat consumption as one of the biggest causes of climate change.
There are a number of concerning issues with encouraging the general public to pursue this lifestyle. Before we dive into what those are, it should be noted that some pursue a vegetarian or vegan lifestyle for ethical or religious reasons. This article is not pertaining to those reasons for these diets. It is instead responding to the claims that plant-based is better for the environment and our health.
Concerns About the Suggestion to Avoid Meat for Climate and Health Reasons
First, there is confusion about the meaning of "plant-based" vs. "vegetarian" vs. "vegan" – and these distinctions matter.
A vegan diet avoids all animal products and by-products. A vegetarian diet avoids animal products, but usually includes some form of by-products like dairy products or eggs. A plant-based diet consists of mostly plants. Some hear plant-based and believe that means ONLY plants, not MOSTLY plants. Plant-based does not mean meatless and this is an important distinction. Sources promoting a plant-based lifestyle are doing readers and listeners a disservice by not clearly defining what a plant-based lifestyle means.
The average person interested in going plant-based, may not have the nutritional knowledge to do so in a healthy way.
Even if the person is not eliminating meat completely but reducing it significantly, there are serious risks of deficiency in Vitamin B, iron, calcium, zinc, iodine, Vitamin D3 and Omega-3 fatty acids. Most U.S. adults are ALREADY deficient in these nutrients and many, especially women, are actually not eating ENOUGH animal protein.
Suggesting that people reduce animal protein in their diets means they will either:
a.) Need to eat HUGE amounts of produce on a daily basis to achieve the same level of nutrients (and ensure they're accounting for the impact of phytates, lectins and nutrient loss from improper preparation or inadequate soil health).
and/or
b.) Take daily supplements of the nutrients mentioned above to achieve adequate intake. However, food-sourced supplements are generally more effective and bioavailable than synthetic supplements (and also more expensive). Many people do not know this. Since when is a diet filled with pills and capsules more ideal than eating REAL foods that provide us the nutrition our bodies require in the most absorbable, bioavailable form? Our ancestors were healthier than our population is today and animal meat (specifically organ meats) were a prioritized aspect of their diets. Nutrients in capsule form didn't exist, and they didn't need them…
The other problem with supplementation is that many people don't realize that single nutrient supplements are actually risky. Many vitamins require the presence of other vitamins (or fat) to be properly utilized by the body. For example, one should never take a calcium supplement without ensuring they're also consuming adequate magnesium and have optimal levels of vitamin D.
People should work with their doctor to determine the appropriate supplementation amount, and monitor their blood levels through regular testing to ensure their numbers are optimal. If an entire family is following a plant-based or meatless diet, this can mean an intensive practice and higher medical costs. When your vitamins and nutrients come from food, your body is more likely to absorb what it needs and eliminate the rest.
Also, such diets aren't ideal for children and their development. As this article states, "…children under age 5 who are reared on vegetarian and vegan diets can suffer impaired growth. That's because of the potential for a vitamin B12 deficiency, which can also result in anemia and vitamin D deficiency which can cause rickets. DHA, an omega-3 fatty acid found in fish and animal products, is important for optimal brain development the first 2 years of life."
Other Concerns With the Plant-Based Approach
A person living a plant-based lifestyle may also be avoiding animal-sourced fats, which are essential to optimal brain health.
Contrary to popular belief, saturated fat IS beneficial, but the source and combination of other ingredients eaten with it matter. Multiple studies have found increased rates of anxiety and depression in vegetarians and vegans. It is highly likely that a lack of quality fats in their diets, combined with other nutritional deficiencies outlined above attribute to these increased rates.
If the person is eating a high amount of vegetables, but not drinking enough water, they may experience bloating, constipation and malabsorption of the very nutrients they're hoping to glean.
New research on lectins is also emerging as to how that may be causing problems in our bodies. Plus, crop lands contribute to greenhouse emissions. Keep reading for more on that topic.
Some may replace calories from animal products with wheat and grain products, and unhealthy processed foods.
Wheat and grains elevate blood sugar and a high-carb diet is shown to lead to numerous health issues and prolonged inflammation. Gluten sensitivity can cause bloating, diarrhea, constipation, skin issues, depression, anxiety, joint and muscle pain, and autoimmune diseases, to name a few.
Also, lab-produced fake meat products are filled with junk additives.
If you're not eating organic plants, you're taking in countless chemicals and toxins.
Chemicals and toxins are endocrine disruptors and promote inflammation in the body. A diet heavy in plants treated with these things likely does more harm to the body than good.
Young women and women in their childbearing years should be very wary of going plant-based.
This article states, "The nutrition warnings are a bit more urgent for pregnant and lactating women who are vegan. Having a vitamin B12 deficiency, particularly, has been shown to impair neurological development in infants nursed by vegetarian mothers. A lack of vitamin D and calcium also can result in bone demineralization in breastfeeding women."
It's common to be low in B Vitamins even while eating a typical amount of protein, so a woman reducing her intake of animal protein is concerning.
Contrary to the portrayal by media, celebrities and political agendas, reducing our consumption of meat is a small piece of a bigger puzzle to reduce greenhouse emissions.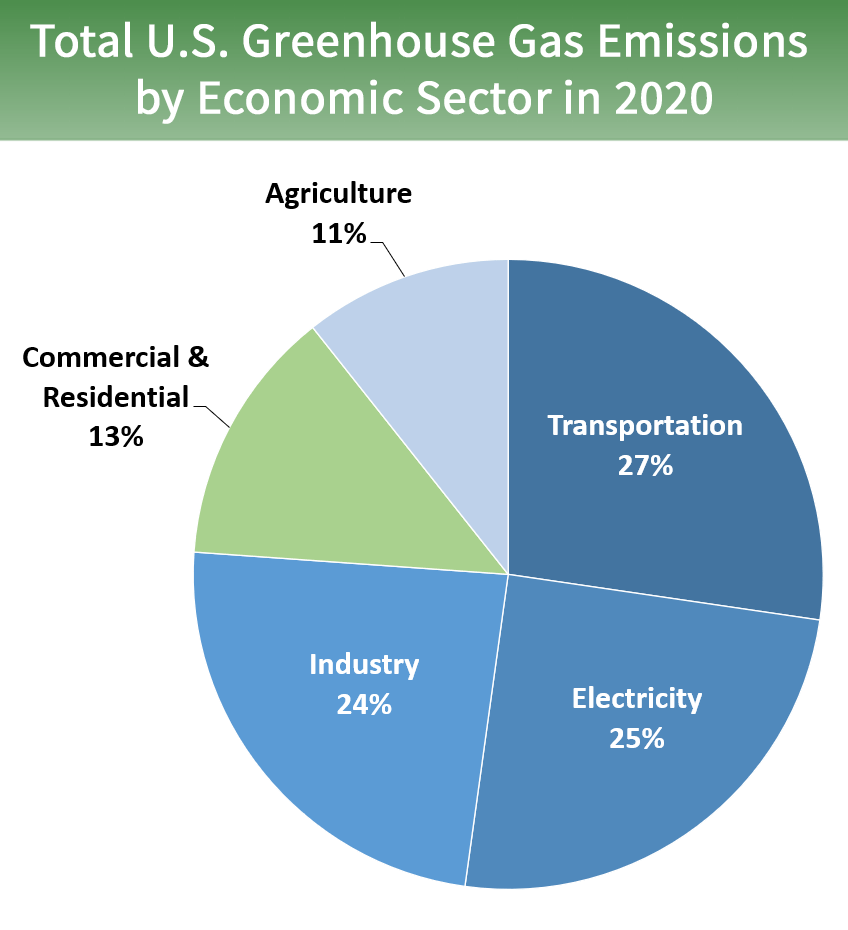 According to epa.gov, the sectors most impacting greenhouse emissions are as follows:
Transportation – 27%
Electricity – 25%
Industry – 24%
Commercial & Residential – 13%
Agriculture – 11%
Roughly 37% of that agricultural sector comes from ruminants (animals that graze, e.g. cattle). That's approximately 4% of total greenhouse gas emissions.
If meat production accounts for such a small percentage of total greenhouse gas emissions, why do others portray it as one of the biggest priority to focus on? Clearly, there are other sectors making a far greater impact on the environment. And, while important, many things within those sectors aren't truly a necessity to our human survival and ability to thrive like proper nutrition.
Meat, especially red meat, has undeservedly developed a bad reputation related to our health.
As we shared at the beginning of this article, red meat is packed with the very nutrition vital to our ability to thrive. In fact, according to Dr. Andrew Huberman, neuroscientist at Stanford University, human bodies are fat- and amino acid-foraging all the time. This means that our bodies continue to want food until our needs for fats and amino acids have been met. Do you know what provides the best sources for these fats and amino acids? That's right, animal proteins.
Studies that have claimed to show a negative impact from red meat on human health were poor in quality and did not isolate for other factors, like other dietary and lifestyle choices.
So, the answer isn't to reduce meat, but instead to focus on improving management of cattle. Many of the emissions from livestock are a result of cows raised on conventional feedlots. A cow that is raised by rotational grazing practices actually BENEFITS the environment, rather than harms it. It follows the natural ecosystem that these ruminants would normally be part of.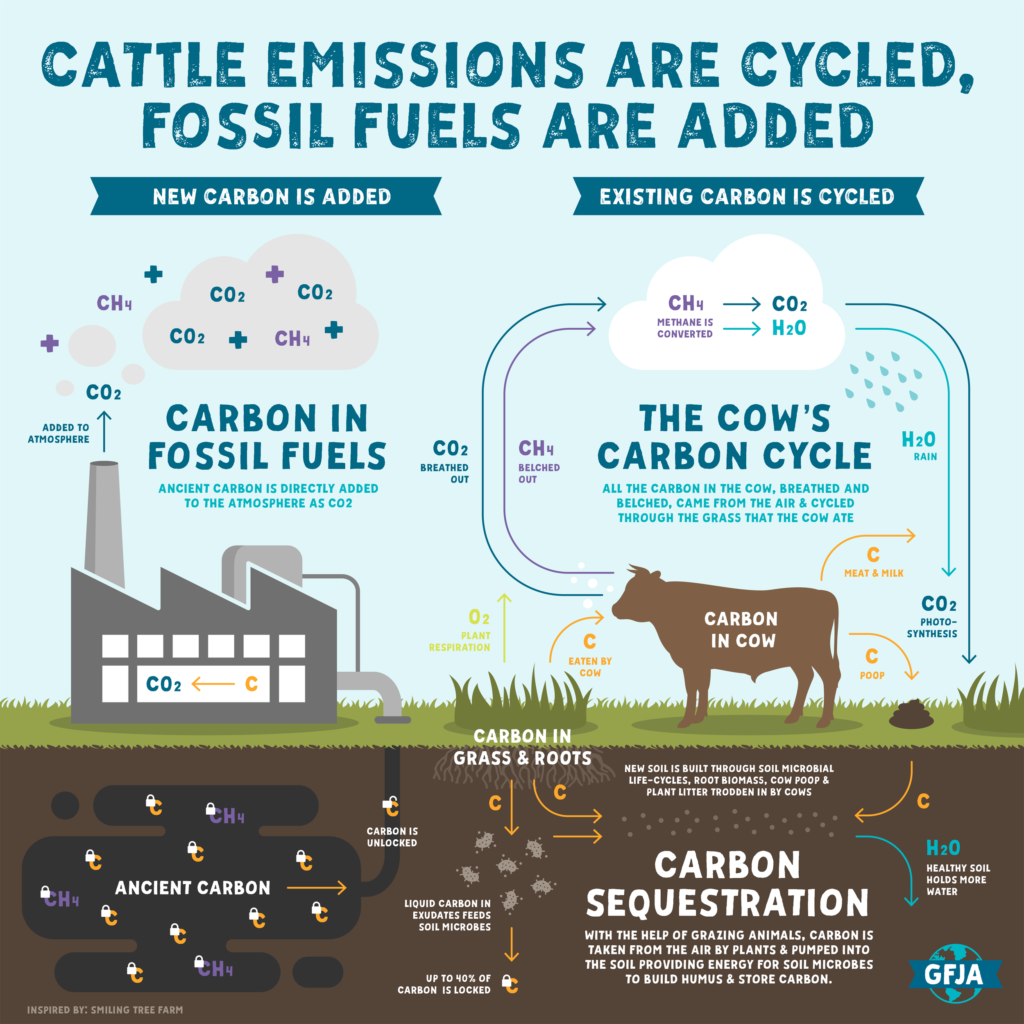 The goal should be to increase the number of cattle ranchers using sustainable systems. Here are some more examples of the environmental impacts from both systems:
Grass-Fed, Organic
Conventional Feedlot
Animals are moved across pastureland (this is called rotational grazing). This prevents over consumption of grasses in a singular area and encourages new growth of grasses.

Grass captures carbon

and becomes what's called a "sink." This is actually a positive for our environment!
Grains used for feeding cattle require crop production, which adds to greenhouse emissions. Pesticides and chemicals used in this crop production also harm the environment (in addition to our health) and get into our waterways.
Animal manure is spread across pasture, naturally, which yields lower methane production and returns nutrients to the soil. This natural fertilization process yields more nutrients and biodiverse grasses that the cows eat, and that you benefit from by eating the meat.
Animal manure is kept collectively in one place, producing higher methane emissions.
Grass-fed, organic meat is better for the body and may lead to reduced health issues. This may result in less need for hospital stays, medications and interventions, all of which add to greenhouse gas emissions
Animals are fed grains, which must be grown as crops and add to emissions
This NPR article shared an exciting finding from a study on grass-fed operations: "Another recent LCA study, of Georgia's holistically managed White Oak Pastures, found that the 3,200-acre farm stored enough carbon in its grasses to offset not only all of the methane emissions from its grass-fed cattle, but also much of the farm's total emissions."
The health of the soil is a foundation for healthy crops and ecosystem.
Current industrial practices of crop production use synthetic fertilizers, pesticides and practice monocropping all which degrade and deplete the land and alter the microbial landscape. Further chemicals are then added to offset the degraded land.
How does this contribute to climate change? According to Foodprint.org, "nearly 80 percent of the carbon in terrestrial ecosystems is in soil. Local loss of soil-sequestered carbon has global consequences." Carbon helps the soil retain water, gives it structure, and keeps it fertile. "Unsustainable agricultural techniques which cause erosion, such as excessive tillage, and which do not improve soil health (e.g., soil microbes and organic matter), hasten the release of carbon dioxide into the atmosphere."
Agriculture is also a contributor to deforestation which makes the land vulnerable to drought and floods. Eating more grass-fed meat reduces the need for the production of feed crops.
The suggestion to eat less meat means

people are likely to eat more of something else

to make up for it.
This means more crops if eating plants or grains (which add to emissions), or more processed foods which add to emissions through their production. For example, many don't realize that rice cultivation accounts for a significant level of greenhouse gas emissions.
Yes, agricultural producers can make efforts to reduce their carbon footprint. Other businesses and industries can do the same.
One of our favorite cheese makers, Cowgirl Creamery, partners with dairies that are doing their part to sustain more environmentally-friendly operations. One example is converting methane from manure into renewable energy. Conventional feedlot systems can do more to embrace similar practices,. However, this is unlikely to be a priority unless the government steps in and mandates change through incentives or penalties.
So, the answer that supports our environment and our health isn't to go plant-based.
The better answer is to eat higher quality meats from producers whose operations are supporting as close to a zero- (or even positive-) carbon footprint.
The other key is to reduce your individual carbon footprint in other areas, too.
Taking that into account, here are 11 ways to live a lifestyle that promotes your health AND a healthy environment:
1.Eat higher quality, organic, grass-fed meat.
The average American is likely eating a high quantity of low quality protein. As mentioned above, grass-fed, organic beef has higher amounts of Omega-3 fatty acids, nutrients and antioxidants. This is thanks to those nutritious grasses they're eating! Our bodies are very smart. When they aren't getting the nutrients they need, they signal hunger in an attempt to bring in more nutrients. This means that when you start eating better quality meat, you may actually find that you need less to feel full because of its enhanced nutritional profile!
2. Eat less overall.
Nearly 72% of Americans are overweight and over 40% are considered obese. The average person consumes more calories than their body truly needs. In addition, many are eating processed foods filled with chemical ingredients such as emulsifiers, food dyes, excess sugars and preservatives. All calories are not created equal.
3. Eat more whole foods and less processed ones.
4. Turn out the lights and unplug appliances.
For some reason, an important aspect of nutrition is attacked, yet nobody considers our general lifestyle and technology-ridden habits. Artificial light has allowed us to stay up past sundown, but it's also messed with our circadian rhythms. Many adults have challenges with sleep. If more people turned off their devices at least two hours before bed, and attempted to go to sleep closer to sundown, and rise with the sunrise, this would cut down on energy usage. This is another reason to get sunlight in our eyes in the morning which helps reset our circadian rhythms.
All of the Amazon Alexa devices, smart TVs, and anything else left plugged into walls (think appliances, phone chargers, etc.) still draw energy. This "vampire" electricity accounts for "4.6% of the country's total residential electricity generation," as this article shares.
Reducing your technology use and conserving energy in your household, doesn't just support your health. It'll save you money on your energy bill, too!
5. Drive less, carpool, drive an electric car and/or take public transportation.
6. Produce less trash.
Stop throwing away leftover food and food scraps! Learn how to become a great re-heater of foods and find creative ways to use scraps, or compost them.
Recycle more.
Use more reusable items like stainless steel straws, reusable silicone bags in place of Ziploc bags, glass containers for storing food, etc.
Buy less pre-packaged foods. I'm continuously amazed by the number of tiny plastic packages inside those salad kits at the grocery store – what a waste!
When you buy online from retailers like Amazon, strive to purchase multiple items at one time, rather than singular items separately. Select the shipping option to save boxes and receive your items in one box.
You may even get to take advantage of tax credits by doing so!
8. Become informed about the products you buy and the brands you support.
Do you know how much of a carbon footprint your favorite products (food and otherwise) make on the environment? It might be time to start educating yourself.
9. Request to work from home.
Despite the unfortunate circumstances of COVID-19, the resulting shift to most people working from home has provided benefit to the environment. You are helping the environment by reducing your commute to work and the need for an office space within a separate commercial building.
10. Join or start a committee at your workplace focused on reducing your organization's carbon footprint.
Make your voice heard and enroll others in the cause who want to make a difference for the world, too. Many organizations are still using way too much paper and not recycling what they could be, among other issues.
11. If you're a business leader, you have an even greater opportunity to effect numbers 9 and 10 within your organization and for your employees.
If people were taxed based on their personal carbon footprint, we'd live a lot differently!
As a society, we're quick to jump at attention-grabbing headlines, but don't stop to think whether they really contain the full story, and if it's really the right place to focus.
There are countless places we can reduce waste and improve our effect on the environment, so let's look at all of them with a proactive and objective standpoint.
It's great that some celebrities want to use their status to support a cause. However, it's also ironic when some of those celebrities and uber-wealthy activists promoting plant-based lifestyles as one solution to tackling climate change also live frivolous, luxury-focused lifestyles. They fly on private jets, build and live in mega-mansions, collect and drive high performance cars requiring expensive fuel and participate in other activities that detract from the very "mission" they claim to be pursuing. This is not true for all celebrity activists, but it is for some.
It takes a holistic approach to protecting our beautiful Earth. Let's all do our part to help the environment, and be sure we're supporting our health at the same time. We look forward to continuing on this path of growing and learning with you! We can always be better – and that's an inspiring way to live!
Active-ists for your health,
Irene & Brianna