It may be getting colder, but this recipe will take you to the tropics! A few weeks ago, we had plans to eat dinner together on a weeknight. We were throwing ideas around for different restaurants, but we came back to where we often end up – deciding to make a home-cooked meal. We know the ingredients being used, we save money, we get to move more (actively preparing and cooking food vs. sitting, waiting for it to be prepared for you), we can enjoy our wine or cocktail of choice, and we get to hang with the pups! And we firmly believe food tastes better and nourishes our bodies and souls when it's made with love!
We reminisced of the coconut macadamia nut-crusted Mahi Mahi that Whole Foods used to sell at their fish counter, but disappeared and has yet to return. We loved that fish! It was sweet and salty and so easy to serve. We decided that we'd attempt our own version at home that night. We paired it with cauliflower rice simmered in coconut milk. What resulted was a meal that tasted incredibly indulgent and yet was still healthy! That's a home-run in our book and we just had to share it with you. We hope you try it – let us know what you think!
You don't have to use halibut for this recipe – Mahi-Mahi and cod would make perfect substitutes. Choose what works with your taste and budget.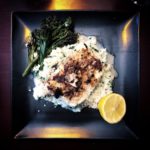 Print Recipe
Coconut Macadamia Nut-Crusted Halibut
A delicious and healthy fish recipe that takes you to the tropics!
Ingredients
1

lb

Wild Alaskan Halibut cut in 4-inch long pieces

(wild-caught Mahi-Mahi or Wild Alaskan Cod can be substituted)

1/4

c

Milk, half-and-half, coconut milk, sour cream or yogurt

(even a whisked egg will work – you just need something to help "glue" the nut and coconut mixture to the fish)

3/4

c

Whole Macadamia nuts

See note

3/4

c

Unsweetened shredded coconut

2

tbsp

Butter, olive oil or coconut oil (or a combination of any of these)

Salt and pepper

Fresh cilantro, chopped

(optional)
Instructions
In a wide, shallow bowl, mix the coconut and crushed macadamia nuts together.

Heat the butter and/or oil in a skillet on medium heat, spinning the pan to make sure it coats the entire base.

Salt and pepper fish on all sides, then coat on all sides whatever you're using as your "glue" (using your fingers or a pastry brush).

Dredge each piece of fish in the coconut mixture on all sides, pressing firmly to help the mixture stick to the fish. Place each piece of fish into your skillet. If you have any coconut mixture remaining, toss it into the pan on one side so that it's easy to remove later. Cover and let cook until you notice the coconut mixture beginning to brown on the bottom.

Flip each piece of fish to the other side and let brown. If your fish is thick, brown the sides as well. Continue cooking until an instant-read thermometer reaches 145° F. You can also tell the fish is done when it begins to flake in the center. This messes up the "look" of the finished product, but sometimes I'm more worried about just getting dinner on the table than what it looks like!

Top with more cilantro if desired. Enjoy!
Notes
Macadamia nuts – we buy a bag of roasted, salted macadamia nuts from Costco and stick them in the freezer. That way they don't get rancid before we use them up. Just take out what you need and stick the bag back in the freezer. You can do this with any type of nut to keep them fresher (and we think they taste better for snacking, too!)